Oh: Kickstarted Tactics 'Em Up Duelyst Will Be F2P Instead
Backers given unlocks instead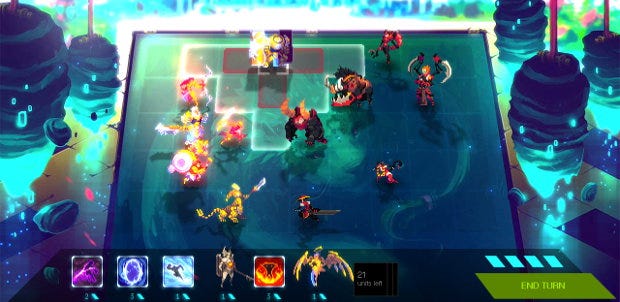 Counterplay Games raised $137,707 (£90,000-ish) on Kickstarter in 2014 for Duelyst [official site] with a dream of turn-based tactical combat focused on competitive ranked multiplayer. It was to run under that quaint 'pay-once-and-get-a-game' model, with pledges offering the game starting at $15 (£10) and running up to $70 (£45) for versions with fancy skins and instant unlocks of units and spells. Well! Eleven months later, Counterplay have changed their minds, and announced it'll be free-to-play.
During the Kickstarter last year, team lead Keith Lee had told us that they weren't going F2P because they thought the audience of a turn-based tactics game on PC, and on Kickstarter, would rather have the whole thing in go. Evidently folks were into that idea enough to put up $137,707, but Counterplay have had a bit of a rethink since then.
They insist F2P will be better for Duelyst in the long term, saying they're "taking practical steps to create a sustainable company to fully support Duelyst for many years to come". They're dreaming of regular content updates, tournaments, and whatnot, comparing it to the F2P likes of Dota 2 and Hearthstone. They explain, "We've run the numbers, and a one-time purchase model simply doesn't support the level of updates we want to bring to you." Free-to-play will also potentially let it welcome a larger playerbase, which is important for a game focused around ranked matchmaking to keep waiting times down.
They plan to sell cosmetic-only skins and booster packs of the cards of units and spells that folks use to compose squads. While cards can still be unlocked by playing, selling booster packs does let people jump ahead and that'll always feel iffy. Grinding out unlocks when you know some people are paying to unlock big chunks can feel icky.
I can see Counterplay's argument, and they may be right. Multiplayer-only pay-once games are very likely to fail, or to struggle to pay for ongoing support. (Not that F2P guarantees success, of course). However, this isn't the dream that people put $137,707 towards.
Counterplay plan to compensate Kickstarter backers with a handful of instant unlocks, giving more to those who backed more. They'll get one copy of each card for certain factions, which comments on the post suggest isn't enough to build a solid deck, as you'll want duplicates. It doesn't seem the most generous compensation.
Consider this another "Kickstarting is not pre-ordering and, even if it were, pre-ordering is a bit awful anyway" reminder.
At the same time, er, F2P might make some more interested in Duelyst. In which case, it's this:
Ta for the tip, Jason.