Duelyst's Trial Of Mythron expansion out next week
Twist. Twist. Stick!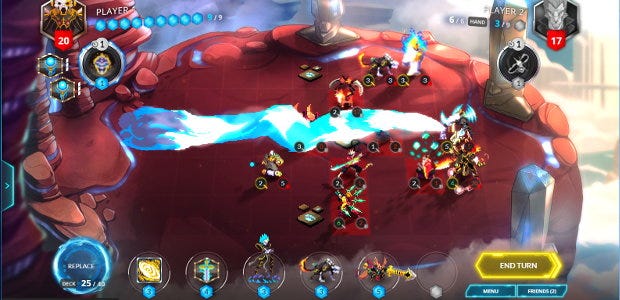 Both of our resident deckheads are elsewhere this week, so it falls to me as a recovering shuffleholic to nervously peek at news of the next Duelyst expansion. Over 100 new cards are coming to the free-to-play CCG in Trials Of Mythron, its sixth expansion, with new mechanics and a new one-per-deck rarity. I'm told Duelyst is good, though I nod along enthusiastically with a look of terror and my nails drawing blood from the palm of my hand-holding hand, so this is good. Here, check out the pretty sprites of the expansion's new units:
Beyond new units, new abilities. The Intensify keyword will feature on certain Minions and Spells, giving stacking bonuses that them more powerful each time they're cast. The other keywords are Trial and Destiny, which always appear together; the Trial is an objective which must be met before the card can be played, then the Destiny is a powerful game-changing ability the card will pack when it hits the field.
Also new is the Mythron rarity grade for cards. Players can only have one Mythron card--one, of any, ever--in their whole deck. They're seven bonus cards found in Trial Of Mythron orbs (one in your first, then one in every ten after that). Fancy fancy.
Trial Of Mythron is due to hit Duelyst next week.
If you've not Duelyised before but are curious, do check out Young Matthew's review. "Duelyst is Hearthstone's child," he says. "You can see the shared DNA everywhere, from the menu layout and free to play business model to specific minion abilities and hero powers," he says. "Almost everything Hearthstone does, however, Duelyst does better," he says. Oh la la.