Duelyst gets 100 card expansion in mid-November
Cardwards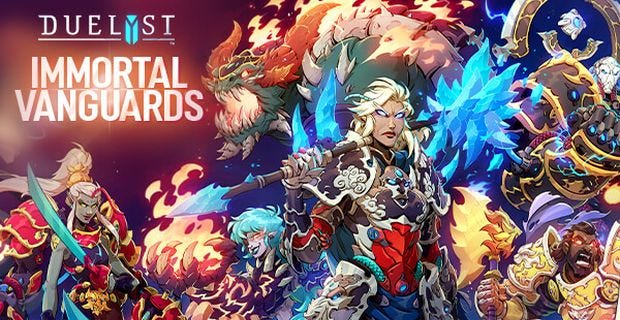 I'll always remember Duelyst for its spectacularly dumb monster fights. Following a recent takeover from Bandai Namco, the collectible card game is continuing on, eggs-a-poppin' and minions-a-marching. Next month there'll be an expansion of 100 cards, including six new generals with which to lead your beasts into battle, one new leader for each faction. One of them is called "Ragnora the Relentless" which is a perfect name for any small pet.

The expansion is called Immortal Vanguard and is due in "mid-November". There'll be new mechanics too, say the developers at Counterplay Games, but they haven't yet explained what those might be. They have revealed the new generals, however, and will be unveiling more cards through various streamer channels in the run-up to release. I don't have the patience for drip-fed information, but if you do the list of streamers is at the bottom of that page.
There's a ticklish spot in my brain for the monster chess of Duelyst. It's the best of the many Hearthstone-killers, even if it does partake in all the grubby rando-loot practices that have plagued card games since time immemorial. It was disappointing to see that the game recently began shutting out players from some countries. This was "to ensure compliance with U.S. and international laws and regulations," said Bamco Namdai. This is likely a reference to trade embargoes, sanctions and such. Reddit-person TheBhawb has made a list of countries that might be a problem when it comes to creating an account, buying items in the shop, or simply playing the game.