Endless Space 2 update launches fighters and bombers
Pew pew!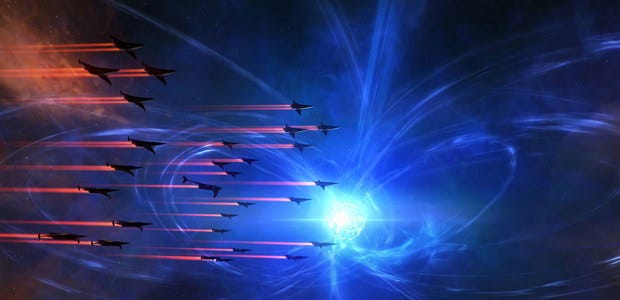 Splendid sci-fi strategy game Endless Space 2 [official site] today launched a big update adding fighters and bombers. These spaceship classes were added to the first game in an expansion then promised as freebies for the sequel after launch, and here we are. Arriving alongside them are a new quest revolving around fighters and bombers, as well as returning Pirate hero Jennifer Rach. The game's picked up a tidy little discount to celebrate the launch too.
Along with new content, the update brings heaps of bug fixes, AI improvements, and balance tweaks. The full Update 1.0.47 patch notes detail everything but developers Amplitude Studios also sum them up thusly "to give you the gist":
"Trade Companies have seen their output lowered, while Heroes are now gaining a base amount of xp per turn, depending on whether they are a governor or an admiral. Their xp gains have been adjusted to be fairer to admirals. The AI is now less easily provoked by exploration vessels on its territory, while also better at handling its own approval ratings since the overcolonization changes."
More of a good game is good news. Fraser Brown's Endless Space 2 review praised the game, declaring that it perfects "elements big and small that tackle problems 4X games have been grappling with for a long time."
If you fancy a crack yourself, you can pick it up on sale until Friday, September 25th. A 25% discount brings Endless Space 2 down to £26.24/$29.99/€29.99 on Steam.