Brawl with meat-mecha in Extreme Meatpunks Forever
Nazi Meatpunks Fuck Off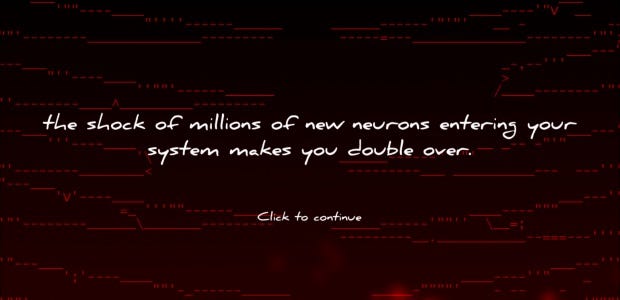 Four queer misfits living in a small desert town, making ends meet and trying to keep ahead of the half-witted fascist gangs that roam the streets. It's a simple enough and very contemporary story... Right up until you get to the sun disappearing, the town being somewhere in the 'Hellzone' and the fist-fights using giant biomechanical meat-mecha. Welcome to Extreme Meatpunks Forever, an upcoming visual novel (with some realtime, low-fi robo brawling). The trailer is below.
I just spent the past half hour reading and brawling my way through the opening chapters of this bizarre little thing, and I'm still not entirely sure what I experienced, but I definitely liked it. The writing is fast and snappy and often funny and surprising, even if the intentional grammar flubs and pseudo-typed quirks in each character's dialogue reminds me a little of Homestuck's sprawling chat-logs. The mech combat itself is simple, but kinetic. It's body-horror sumo wrestling, with you trying to beat your enemy's meat (ooerr) senseless long enough to push them out of the ring.
The deliberately mismatched aesthetics of the game are fascinating and fun. Pastel-shaded protagonists, faceless antagonists, ASCII-art backgrounds, and bubbling masses of particles and sketchy programmer-art in the combat side of things. I'm definitely playing more of the preview build given to us, and recommend you check it out once the first two episodes are released on July 19th. Subsequent episodes then follow on August 2nd, 16th, 30th and the series ends with episode 6 on September 13th.
Underneath the meatmad fantasy setting, Extreme Meatpunks Forever gets pretty damn real, pretty damn fast. It's a story about a band of gay oddballs who stick together out of necessity in a painfully hostile world. Moments of tenderness and understanding are broken up by a procession of faceless and utterly loathsome fascist arseholes who seem to delight in nothing but the suffering of others. There's anger here, and righteous indignation, and fear. It's raw, bloody, tough, and not the slightest bit concerned with civility, and that's just how it has to be.
EXTREME MEATPUNKS FOREVER Season 1: POWERED BY BLOOD begins on July 19th, and you should probably follow it on Itch.io here. While you're there, check out Heather Robertson's many other games on Itch.io.