Mod The Commonwealth: Fallout 4 Creation Kit Beta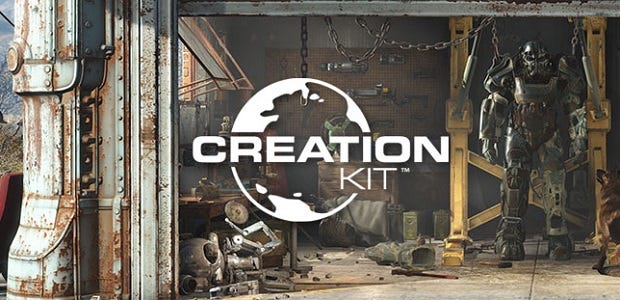 Fallout 4 [official site] just got a lot more interesting. The Creation Kit - which Bethesda say is "the same tool that we used to create Fallout 4" - is now available to download via the Bethesda.net launcher. The modding tools have now moved into open beta and you'll need to follow some simple instructions to get them working via Steam. Once you've opted in, you'll be able to browse and install mods from within the game.
The important thing to note from that video is that your precious mods, created on your PC, might sneak through Bethesda's internet-tubes and find their way onto consoles. Imagine that! Turns out we're all on the same internet after all.
The danger of easy-to-install mods, for me, is that I tend to throw so much crap into my game that there's no consistency. Yeah, that guy is dressed as Doink the Clown and over there you might see a whack-a-mole hammer attached to a suit of power armour.
I'd rather create a curated experience using mods, adding only things that are either too brilliant to ignore or that are at least thematically appropriate. A darker, nastier Wasteland, maybe? Heck, if it's possible to make a total conversion in which there are no other living people, just the ghouls and the beasties, I'd love to take that for a spin. Fallout 4 as survival horror.
It's perhaps telling that I want mods to make Fallout 4 into something completely new. I haven't played it since a couple of weeks after release but I'm reinstalling right now so that I can spend the next few weeks browsing peoples' creations.
Oh, and those installation instructions are here, in case you didn't bother to click the link earlier:
Log into Steam
Right Click on Fallout 4 in your Library
Select Properties
Select Betas
A drop down menu will appear. Select beta
Wait a few minutes and Fallout 4 should update
When done, Fallout 4 should appear as Fallout 4 [Beta] in your Library
Enjoy.