Fallout 4 high-resolution texture pack out next week
Steep system requirements!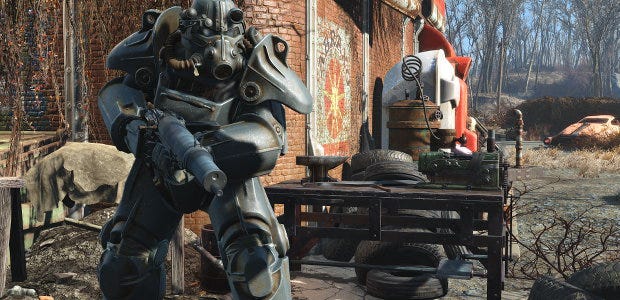 The official Fallout 4 [official site] high-resolution texture pack is coming free next week, Bethesda have announced. You'll need a computer far beyond Fallout 4's original recommend spec to make good use of the pack, mind. Can your box blast bonny Boston? Is your rig ready for the roof felt? Can your hog handle HD hats? Is your silicon-snorting framecrusher pumped for 60 reps of sand a second? Will your deck deck the decking? Read on for the system requirements.
Bethesda explain that you'll need an extra 58GB of disk space (mercy me!) for the texture pack, which just about triples the size of the base game. On top of that, your cyberslammer will need to be packing this heat:
Windows 7/8/10 (64-bit OS required)
Intel Core i7-5820K or better
GTX 1080 8GB/AMD Radeon RX 490 8GB
8GB+ Ram
Visit Bethesda for a full version of the screenshot showing high-res textures ('s the bottom one). Historically, Bethesda have released these packs technically as free DLC, so installing (and uninstalling, if your hog turns out to lack the honk) should be as simple as clicking a checkbox in Steam.
Bethesda's announcement also say that Fallout 4 will be "bringing new features to Mod content" next week, whatever that means.
I'm glad that Bethesda have the habit of releasing HD texture packs based on their own source textures. Fallout 4 strives for realistic-ish but parts are definitely stylised, and player-made packs often miss that as they amp up the grit and contrast. Some of 'em do look quite good, and I know some folks prefer that, but I'm glad the official option is coming for a better version of how Fallout 4 was intended to look.