Luck Be A Trailer Tonight: Fallout's Final SPECIAL Vid
did you miss Fortune?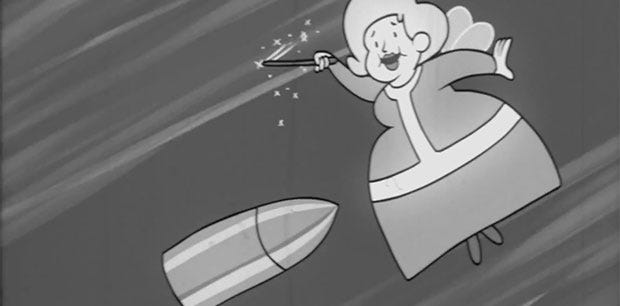 Here's the latest and, unless they're about to do something fruity with full stops, presumed last of the short S.P.E.C.I.A.L. animations which break down Fallout 4 [official site]'s character attributes. This time Bethesda are demonstrating the climatic L, that being Luck - aka 'the one nobody likes to put too many points into because the pay-off is so much more uncertain than all the others.' Chipper old Vault Boy feels otherwise, and goes off on a bug hunt to demonstrate.

Here you go:
Just in case you're brand new to all this, the most interesting implication is not a new one. When that random gunslinger arrives near the end to help out, yes, that's a thing that can happen. If you've ploughed enough points into Luck, a Mysterious Stranger will on occasion pop up to light your darkest hour. As yet, no Fallout game has tried to explain him to any meaningful degree, and let's hope that noble tradition holds.
Fallout 4 is out on November 10, lest you didn't know. That's, what, three weeks away now? How did that happen?