Fiendishly Cryptic: 2000AD Teases Upcoming Game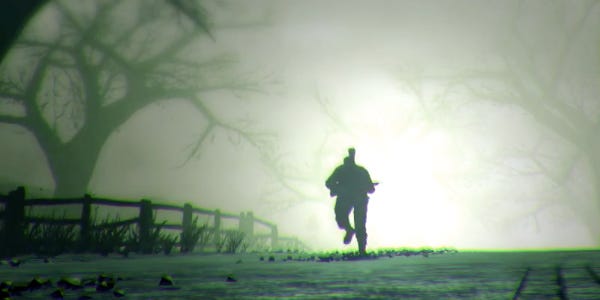 "One man is utterly alone amidst the chaos of war," warns the YouTube summary. "But there are worse things to fear than bombs and bullets here..." What could this mystery game be?
Clearly, it can only be one thing - CARDIO XTREME 1944, the new exercise game for REAL MEN. How fast can you run? HOW FAST CAN YOU RUN? Oh. Okay, that's quite fast. But will it be fast enough? Possibly. Some people are good at running. Maybe you are too.
...or alternatively, it might be something to do with Fiends of the Eastern Front, about vampires in World War 2. Would at least make a change from all the bloody zombies.
"Debuting 14th February 2013, PC fans will soon get the chance to discover for themselves just what is in store for those brave enough to venture into the 'Totraum'," continues the teaser from Rebellion/2000AD, adding "Heil Gotterdammerung!" You can also head here to sign up for a spooky looking mailing list and to get first dibs on the gory details when it lands.