Am I A Good Man? Thoughts On Firewatch
Spoilers, theories and criticisms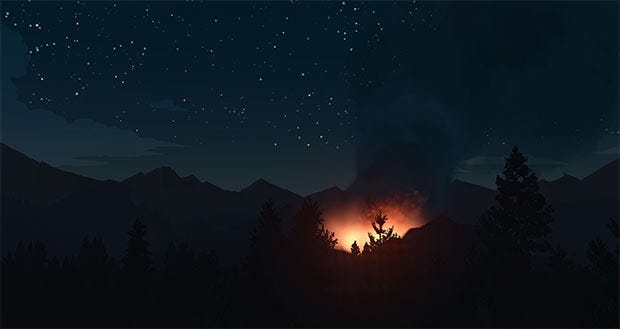 Contains spoilers and theories which may or may not be spoilers.
I spent most of my time with Firewatch wishing I was there, alone and without pressures in its peach-hued Wyoming wilderness. It was all I wanted from life: an escape from glaring screens and beeping devices and an inbox which endlessly refills itself with requests I can't do anything about.
Then I turned on the radio this morning, to hear a feature about how extended isolation has contributed to a disproportionately high suicide rate amongst British farmers. I might dream of a life in the woods, but in truth I would soon become desperately lonely and bored. At least Firewatch gives me the chance to live a small part of it. But it also makes me feel panicky, and guilty.

For the majority of Firewatch, my foremost emotion was jealousy. Many-splintered jealousy: primarily at the aforementioned freedom available to protagonist Henry, in his escape from the pressures of life and into somewhere truly beautiful. Partly at the easy repartee he and unseen deuteragonist Delilah were capable of - oh, to be capable of such effortless wit, such natural connection with another human being. Partly, and relatedly, at how much attention Henry was immediately given by an interesting person (later tempered by the realisation that, unfortunately, Delilah has just a touch of the manic pixie dream girl to her).
The contradiction is glaring: I want to be on my own, unbothered by anyone else's needs, but I want to mean something to someone nonetheless. I don't really want to be a farmer on his own in a field, day after day: I want people to be there but I don't want them to need anything from me.
Firewatch is very much about that duality. Delilah, forever unseen but regularly heard, is at first an unwelcome intrusion upon Henry's communion with nature and pursuit of the distance required to make a decision about how he will spend his future. She mocks and jabbers and wants to play when all he wants to do is mope - and when all I want to do is stroll through the trees and dream of it being my life.
As the game slowly weaves drama into the melancholy and tranquility, she becomes something else: a confidant, perhaps a friend. She thinks Henry's great. She thinks I'm great.
I say that, but of course I picked the conversation options that would ensure that: I was funny, I was reassuring, I didn't chastise. Of course she was going to like me. I don't know what would have happened if I snapped at her or clammed up or called her out.
I also did not, when the opportunity arose, pick the options that would see me declare something more than friendship. I don't know what might have happened if I did. I have decided that I will never replay Firewatch, because I have written my history in it and I do not wish to revise it, so I may well never know what alternative outcomes there were or were not. I am happy with that; happy to imagine an alternative reality in which love is declared and an optimistic future awaits. Happier than I would be to search the internet and find out if that's at all the case.
I didn't choose those options because I thought they would make me a bad man. Both as Henry, already having temporarily fled from the unthinkable pressures of a wife fallen deep into Alzheimer's, and as myself. Firewatch works hard to make its players love Delilah, and while I was always conscious that I was listening to canned lines, the performance and the writing (particularly its wit) could not fail to make me feel fond of her.
I worried that, if I chose the lines that would have me declare feelings for her, perhaps I would be as guilty of emotional adultery as Henry was. I know that sounds preposterous. I have a partner and a child, another on the way. Our lives often feel difficult, for reasons I won't share here, and because of that it seems wrong or even dangerous to be yearning for the company of another woman. Even an entirely fictional one whose face I have never seen. That anxiety fades the moment I'm outside the game and its reality evaporates, but inside it Henry's bond with Delilah is everything.
Honestly, I'm a little uncomfortable about it. Firewatch carefully avoids many tropes when it comes to its lead woman character, most especially in that because she is not seen, her appearance can never be part of her appeal, but it idealises her personality in a well-worn fashion. She may still be something of a male fantasy: funny, flirty, playful, mysterious, unpredictable, seemingly a sexual initiator, and someone who quickly makes an awkward, lonely man she's only just met into almost her entire world.
She's not, thank goodness, a doe-eyed Natalie Portman shouting into the rain in Garden State, and Firewatch as I experienced it is careful not to force any issues, but I did feel slightly manipulated into feeling something for her, that perhaps just one too many fragments of quirky-free-spirit-who-adores-sad-sacks were in her DNA.
That nonetheless speaks to a great skilfulness in the writing and acting, of course: it is sad and crude tradition that feelings towards a woman videogame character are because of their appearance, be it the overtly sexualised or the alt-cool. Here, through spoken words alone, we become affectionate towards a lonely 40-something forest worker whom we never actually meet. And thank God we don't: imagine how many ways that might go wrong.
I was occasionally aware that my buttons were being very deliberately pushed, but I am so glad and grateful that the option to keep it to a friendship was always there. I have made the mistake in the past, several times, of presuming a friendship with a woman must be a sign of something more; fortunately I was always too fearful to cross any lines and so languished in a misery of longing which eventually, inevitably wore away instead, but I know now how disrespectful it was regardless. I don't want to be the guy who presumes that Delilah must be a love interest just because she and Henry get along well - although there are occasions when the game openly invites me to presume just that, and to act upon it.
I don't know what would have happened had I done so. She may well have shot me down, for very good reasons. I hope so. The ending I got (are there more? I don't know) certainly implied she was as aware of the unhealthiness and falsity of our closeness as I was.
Am I a good man because I resisted even exploring those options? Because I maintained fealty to a wife who was barely there anymore, and who I had already run away from? I hope so. I have resisted fleeing difficulties in my own life; I hope that is the kind of man I am. But it was nice to have the attention. Even if it wasn't really for me: it was for witty, anxious, brave Henry and his stubby little legs.
At the same time, I wished she'd leave me alone. This was my only chance to be on my own in these woods, chewing over my own problems (by which I mean both Henry's and my real-world ones; there is profound crossover, in that both of us desperately crave a break from mounting responsibility) rather than the problem of how I felt about Delilah and who was listening in on that problem.
There are times when I questioned Firewatch's pacing; not its length, which seems to me to fit the game, but rather how it chooses to compress and elongate its experience. For every moment in which it seems to offer the freedom of a walk in the woods, it cuts it short with a conversation or, worse, one of the very many and very obvious invisible walls that ensure certain courses must ultimately be taken. If I did go back, what I would do is refuse to respond to Delilah's calls whenever possible, and just walk and take photographs instead.
The saddest limitation of them all was a mid-game sequence when Firewatch switches from living out Henry's days in the forest and instead to showing a series of jump-cuts scattered across several days. While somewhat effective as a means of showing the passage of time and Henry's adapting to this lifestyle, it's too fast, too cut-up: we don't get to meaningfully experience his change from anxiously needing a task to contentedly eating sandwiches as the sun sets gorgeously. Instead we are shown that it has already happened. "Enjoy the sunset, Henry," says Delilah fondly once the latest plot-momentum has slowed - and then the game cuts again to the next day and the next development. I wish I could have watched that sunset for an hour or more.
Partly that's my own problem: trying to have my cake and eat it. I want the walking game and I want the mystery game; even the romance game. Partly I think it really is the game's problem: having its cake and eating it. It wants to be unhurried walking game or the ruralised Gone Home, but it also wants a little of that Thirty Flights Of Loving jump-cut cool. It wants forward momentum even though it has built this great and graceful forest to enjoy. (There are points at which the narrative suffers from this hand-on-the-back pressure too: an abruptness to the denouement about the Goodwins, not enough meat put on the bones of Delilah's relationship with the missing boy. I think, perhaps, the editor's scalpel cut a few too many times as it sought wisely to avoid an excess of exposition).
It does, however, exert that pressure in wonderful ways: the sonic pressure of the radio detector drawing close to its target, then a quietly pounding new arrival on the score which sounds like death coolly knocking on the door, and finally the frightening, choking spread of the inevitable fire. The last act was powerfully, queasily dramatic, and the discovery of tragedy was awful - especially as a parent.
I cried when I saw the father's day card. I thought of my little girl, away at nursery as I write this, and how it would feel if she didn't come back. Ned Goodwin, though such a fool to have left his son's accidental (or so I chose to believe) death unreported, is right in one respect: there's so much you don't know until you're a parent. I was crushed by his loss - even though I felt his story had been too compressed until this point, had little weight until that last act.
Henry lived 79 days in the forest, but I was given just a few hours. I felt I had been made to leave too soon. Not because I wanted to be told more story - that was as complete and as powerfully bittersweet as it needed to be - but because I wasn't ready to depart the woods. I wanted to stay and watch the sunset. I wasn't ready to Go Home.
But I say that as someone who only played it once, and wanted to know what would happen, because mystery was conjured. Perhaps if I went back I would not feel that pressure, and would just wander. Again, I don't want to go back: I don't want to change Henry and Delilah's history. My and Delilah's history, which is simply as friends and confidants.
I had Henry choose to go home, back to a wife who would probably no longer recognise him and in-laws who would loathe him for his former absence, back to pressure and grief and no freedom, and I felt devastated by it. Both at how dark his and his family's future would be, and that he had to leave the woods and canyons and gulleys behind - one of the most beautiful places I have ever seen. One that joins the hallowed company of STALKER, Dear Esther and Proteus as game-places I can close my eyes and conjure up.
Was I a good man to go back home, to resolutely spurn a possibly brighter future with Delilah (not that I presume she would have wanted that herself; I talk only of where my imagination went to)? Or to decide not to wait for the fire to come and burn away my grief and guilt and responsibility? Was being a good man worth it?
I sat and stared at the photographs I had taken for almost an hour, and thought of running away. Then I remembered the farmers.