Gooooal! Football Manager 2015 Has a Demo
Six months of managing feet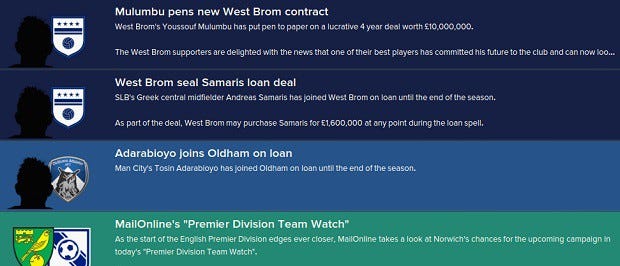 So, any of you football loving types out there who prefer managing spreadsheets instead of having to actually sprint about a field yourself? You know where this is going if you're a footie fan, yes I'm talking about Football Manager 2015. Our Adam was fairly torn on this year's entry, so it's probably a good thing that there's a demo on Steam. There has been for a week, actually. Sorry we never mentioned it.
So, what do you get in the demo? Me and my sports-averse brain will try and work that out for you.
If you grab the demo from FM 2015's Steam page, you can manage a half-season game, which I think means you pick a team and play through six months of football-type shenanigans...
That seems to be about it. You'll obviously get to see how tweaks to the game play out in the short term, you can apparently just pick any major league team and jump in. Oh, it does also let you transfer your save to the full game if you upgrade, which is always nice. You can be England, Spain or Italy, with other teams available if you go track down the "complete demo collection" in the Steam Workshop. Just bear in mind those extra teams are another 1.2GB, so it's your call if you want to try out some other specific team.