Football Manager 2018's best wonderkids
You can win everything with wonderkids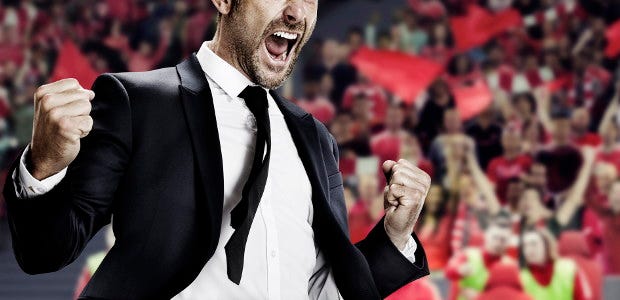 Football Manager 2018 isn't just about playing for a season, giving up, then starting over – it's about building a legacy, relationships and a squad to be proud of. With that comes the need to sign people who are still legally children for more money than most of us will ever see in our lives. Wonderkids, then.
With that in mind, I've trawled through the game to find 36 of the best young players in the game, across all positions, and for a selection of budgets. The days of genuine bargains have faded into near obscurity, but you'll still be able to put together a winning squad for a reasonable amount. Just remember they probably won't be winning anything until 2023 at the earliest.
Do note that player prices will vary – those listed were just the asking prices I had accepted as Tottenham, without factoring in clauses, sell-on percentages, manager/club relationships and so on. Take them as a rough guide more than anything, is what I'm saying.
You also have to factor in the random, dice-roll element of Football Manager when starting a new game. Some players have a potential that's set in stone, while others operate in a range – a five-star Messi-destroyer in one game might merely be a 3.5-star great player in another. Always use your scouts before committing the cash.
Anyway, without further stalling for time, let the List Of Wonder – in descending price order for each position – commence! You can press the right arrow beneath the header image to move on to defenders, then midfielders and attackers, or hit the right cursor key on your keyboard.
Goalkeepers
Christian Fruchtl
Age: 17
Club: Bayern
Position: GK
Will cost: £22m
A lot of money for a kid, but remember a good keeper can serve you into their late 30s and beyond. At least if they're of Neville Southall's standard. Whether Fruchtl wants to leave Bayern or not is a whole other matter.
Lazar Carevic
Age: 18
Club: Barcelona B
Position: GK
Will cost: £600k
You won't be bagging him for lower league sides at this price, but Carevic is affordable excellence for a lot of managers. Barcelona can be hard to pry players away from, but offering him at least a rotation slot if you're a lower reputation club might tempt him.
Defenders
DC
Dayot Upamecano
Age: 18
Club: RBL
Position: DC
Will cost: £34m
If you've a bit more cash burning a hole somewhere, you might want to splurge on a kid who's already got some first team football at a top flight club. Upamecano isn't cheap, but an 18-year-old with experience is a rarity.
Kiki
Age: 20
Club: Sporting B
Position: DC
Will cost: £4.9m
Sporting continues its tradition of being a gestation pod for future greats with Malian defender Kiki. With the right clauses attached you can bring this price down to about £3m – whatever you pay though, he's a solid bet for the future.
Marco Varnier
Age: 19
Club: Cittadella
Position: DC
Will cost: £3m
Cittadella are happy to sell Varnier, but you may have to get stuck into some hearty negotiations to pry him loose. He's worth the price though – strong and quick, like I remember David Unsworth being. Except he wasn't quick. Hmm.
Pepe Castaño
Age: 18
Club: Villarreal C
Position: DC
Will cost: £1.9m
Sometimes you just have to rejoice at the contractual requirement for a minimum fee release clause in Spanish football. Just under two million for a kid who can turn into a great first-team player and form the rock at your centre for years to come.
DL/DR
Theo Hernández
Age: 19
Club: Real Madrid
Position: D/WBL
Will cost: £80m
A teenager, currently playing at Premier League standard for one of the world's biggest clubs and with huge potential to improve? Sorry, I'm just pre-emptively answering the 'why is he eighty million quid' question. That's why. Obviously not one for everyone, but if you have the money he's worth it.
Joe Gomez
Age: 20
Club: Liverpool
Position: DRLC
Will cost: £70m
Nobody wants to give Liverpool this kind of money, and if you've only just got this much in the bank I'd recommend… wait, I've already done that one. Gomez is a luxury youth player, no doubt, but his usefulness and skill at just 20 years of age makes him one to keep an eye on.
Timothy Fosu-Mensah
Age: 19
Club: Manchester United
Position: DRC/DM/MC
Will cost: £68m
Nobody wants to give Man Utd this kind of money, and if you've only just got this much in the bank I'd recommend picking up a few, cheaper kids. But you do get a future superstar for the outlay, and he's adaptable to a number of different positions.
Panagiotis Retsos
Age: 18
Club: Leverkusen
Position: DRLC
Will cost: £40m
Retsos is a great option for those with a chunk of cash and a need to cover a few positions. He's at home in the middle, but is perfectly adept at right or left back. As he's a recent signing to Leverkusen, his value is inflated somewhat at the game's opening – wait a season or so and you might be able to grab him cheaper.
Diogo Dalot
Age: 18
Club: FCP B
Position: D/WBR
Will cost: £16m
I always find world-beating right backs are some of the hardest players in Football Manager to source, so Dalot certainly made my eyebrows dance on seeing him. He isn't available for chump change, but if you've got the cash to invest he is absolutely worth every penny. Superb player.
Luca Pellegrini
Age: 18
Club: Roma
Position: DL
Will cost: £7.5m
Pellegrini starts the game recovering from a cruciate ligament injury, so isn't even available to play until November of 2017. As such you'll want to look at having the signing take place in January or at the end of the season, otherwise there may be some issues.
Vitinho
Age: 17
Club: CEC
Position: D/WBR/MR
Will cost: £4m
You will have to jump through a million hoops to get this young Brazilian a work permit, or even over to your country in the first place. Unless you're playing in Brazil, obviously. Still, Vitinho has the potential to be a 4.5-star right back, and that shouldn't be ignored.
Axel Campeol
Age: 17
Club: AC Milan Under 20s
Position: DL
Will cost: £400k
Football Manager has a tendency to randomise young talent, as I mentioned in the intro, but when a player's available for this price and has the potential to either be a good squad player or a world-beating full back, depending on how your game spawns him, it's a no-brainer.
Midfielders
DM
Claudio Gomes
Age: 16
Club: Paris Saint-Germain
Position: DM
Will cost: £10m
You're not going to drop him straight into the first team – at least not until he's been to the gym for about four years – but Gomes has massive amounts of potential. If you can grab him for this price and turn him into the superstar he should be, then he's an absolute bargain.
Florentino Luis
Age: 17
Club: SLB B
Position: DM
Will cost: £8.25m
Luis is another over-expensive child at the time of purchase, but – and you may be picking this up from the general theme of this list – he can turn into something genuinely special. Rescuing him from the horror of Portuguese sunshine and landing him in the glory that is Leicester's… clouds… could be seen as an act of mercy, too.
Manu Morlanes
Age: 18
Club: Villarreal B
Position: DM/MC
Will cost: £275k
Morlanes I include here not as a guaranteed wonderkid – though he certainly showed potential in a couple of games I loaded – but because he's cheap and guaranteed to at least be good enough to play in the Premier League. Also as a natural central midfielder, he's actually more malleable than the other recommendations in this section.
MC
Rodrigo Bentancur
Age: 20
Club: Juventus
Position: MRC
Will cost: £28m
Cursed with being a recent signing, Bentancur suffers with an inflated price as a result. All the same, he's still worth it if you've got cash in the bank, and is easily good enough to get some time on the field even in the highest of divisions. Watch out for the work permit, though.
Tiago Dantas
Age: 16
Club: SLB
Position: MC
Will cost: £10m
Your not-cheap-but-not-super-expensive option comes in the form of this Benfica youth. He's your typical central midfielder – great technique, little in the way of flair – and has enough about him to make a genuinely great player anywhere in the world. When he's about 22, that is.
Gaspar Campos-Ansó
Age: 17
Club: S. Gijon U19s
Position: M/AMC
Will cost: £1m
Coming in cheap for your central midfield option we have an untested Spanish reserve, available for a more than reasonable cool million quid. Campos-Ansó definitely isn't one to get near a first team game for a few years, but he has ridiculous potential for his price.
ML/MR
Cengiz Ünder
Age: 19
Club: Roma
Position: MR/AMRL
Will cost: £38.5m
Another player with an inflated price owing to his recent arrival, Under should be available for a mite less than the price above a season or so into the game. Then again, he might be about eight times that and a first-team regular at Roma, because he's already good enough for some games.
Timothy Tillman
Age: 18
Club: Bayern
Position: ML/AMLC
Will cost: £19m
Being at Bayern for three years has been a boon for Timmy's development, I'm sure, even if he hasn't ever played for the first team. You'll still have to fork out a lot of money for the teen, but his dribbling, technique and adaptability make him a future great on the left.
Mateus Vital
Age: 19
Club: VDG
Position: ML/AMLC
Will cost: £12m
Those of you looking for an inside forward with massive amounts of potential, who can also realistically play a few matches in the top flight already – well, say hello to a VITAL signing. Ah, japes. Not the cheapest, but he's pacey and unpredictable on the sides, with massive room to improve.
Alejandro Pozo
Age: 18
Club: Sevilla U19s
Position: M/AMRL
Will cost: £9m
It's always useful to have someone who's a natural on both wings, especially if you're instructing players to switch sides often. Pozo isn't as technically gifted as other recommendations here, but he's quick and a born either-side right-and-left midfielder.
Attackers
AMC
Kai Havertz
Age: 18
Club: Leverkusen
Position: M/AMC
Will cost: £100m
I don't know what they're putting in the water in Leverkusen, but it's resulted in a load of teenagers who are good enough to play in the Bundesliga and earn tens of thousands of pounds a week already. If you've got All The Money, Havertz will be the centrepiece of your squad for a long time to come.
Joao Felix
Age: 17
Club: SLB B
Position: M/AMC
Will cost: £22m
Felix is adaptable across multiple positions, but his natural home is in the middle of the park. I'd say he's about ready for a couple of minor cup appearances already, but you'll be wanting to hone his passing and natural technique for a few years before he's ready for the big stuff in top leagues.
Felice D'Amico
Age: 16
Club: Palermo
Position: AMRLC/STC
Will cost: £4m
Inter already have him on loan at the game's start, so you can't actually buy D'Amico – agreed fees and all that. But keep an eye on him, as if Inter don't pull the trigger during his loan stay (they didn't in my game), you might be able to land this ridiculous bargain.
AML/AMR
Ousmane Dembélé
Age: 20
Club: Barcelona
Position: M/AMRL
Will cost: £205m
I mean, he's 20 and likely the (future) best player in the game. How can I not recommend Dembélé? Naturally there's hardly any chance at all he'd leave Barca for whatever your club might be, but there's always the chance – especially with the new Dynamics action – he'll become unhappy for whatever reason. Then you just have to pay him in excess of £205k a week. Hmm.
Andrija Zivkovic
Age: 20
Club: SLB
Position: AMRL
Will cost: £37m
If you're less likely – or able – to go nuclear with the spending, Zivkovic might be more in your ball… field. He's still not cheap, but for your millions you're getting a Premier League-standard winger at the age of just 20. He's genuinely already brilliant, and still getting better.
Nahuel Leiva
Age: 20
Club: Villarreal
Position: AML
Will cost: £14m
Another one to keep an eye on, owing to his loan status at the beginning of the game, Leiva has the potential to be a world-beating left winger. Best of all, he's Argentine but with Spanish nationality, so none of that mucking about with work permits. At least not in England. Well, until Brexit hits. Oh god.
Rodrygo
Age: 16
Club: SAN
Position: AML/STC
Will cost: £5.5m
Rodrygo is another Brazilian minor you'll struggle to get a work permit for, but farm him out to your developmental clubs until he's allowed to legally sing God Save the Queen and you'll have yourself a technically gifted South American winger on the books. And who doesn't want that?
STC
Pietro Pellegri
Age: 16
Club: Genoa U18s
Position: STC
Will cost: £15.5m
He might already be have some games under his belt in Serie A, but this 16-year-old isn't quite ready for regular big time appearances. He is, however, a bundle of raw potential – reflected by his huge asking price – and if you can afford him you should definitely go for Pellegri.
Kuki
Age: 19
Club: Malaga
Position: AMRC/STC
Will cost: £5.25m
I likely would have included Kuki in this list even if he wasn't available at a relatively decent price with the potential to be one of the best strikers in Europe, purely because of his name. He's an adaptable player with a lot of room to grow – definitely one for the shortlist.
Davide Merola
Age: 17
Club: Inter U20s
Position: STC
Will cost: £3m
Merola is the kind of player who takes you back to the earlier days of Football/Championship Manager, when your scouting approach amounted to going to Europe's big clubs and looking at their youth teams. He's a decent striker with massive potential, and you can snap him up cheap before he's allowed to legally booze it up.
NOT QUITE WONDERKID FREEBIES
Chuma (Rafael Gonzalez Rodriguez)
Age: 20
Club: None
Position: AMC/STC
Will cost: £0
Chummles here has the potential to be a good squad player, so if you're looking for a cost-effective way of getting decent youngsters in, look no further than this Sevilla reject.
Diego (Diego Jose Garcia Moreno)
Age: 19
Club: None
Position: AMC/STC
Will cost: £0
Or look no further than this Real Hispalis reject, who is of a similar quality to his free counterpart. He's less experienced, but again has the potential to be good enough for your squad.