For The King is ascending out of Early Access next week
Fortune favours the boldly loaded dice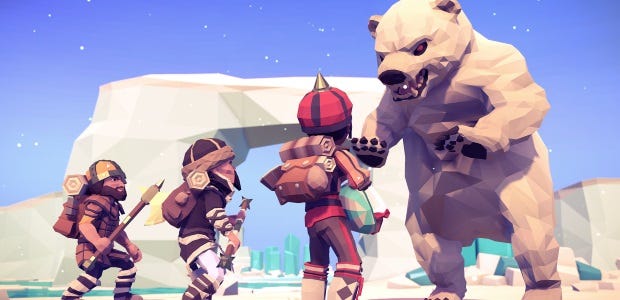 Hex-based tactical dungeon crawler For The King has been rattling around on Steam's Early Access section since February of last year, charming folks with its stylish texture-lite aesthetics and its compelling mix of freeform adventuring and uncompromising tabletop-inspired combat, where things are seldom far from a bad turn. IronOak Games reckon that their first baby is just about ready to take its first steps into the wide open world, and are gearing up for launch on April 19th.
Originally Kickstarted way back in the forgotten days of 2015, For The King is a party driven roguelike with aspirations of being a full-scale RPG. You assemble a trio of heroes, and wander out into a hex-based world on a King's Bounty-esque quest and battle many, many monsters in turn-based combat. Dice will be rolled, hits will be critical'd, and now and then you'll find yourself having to scurry off into the woods minus a party member or two, with plans to recover their battered corpses for revival once the monsters have left the area in search of less cowardly prey.
We sent Brendan down into the stat-mines last year to see what joy can be wrung from For The King in its initial Early Access showing. He came away from the experience bruised, a little more paranoid than usual and broadly impressed with its unflinchingly old-school spirit, although he did find the writing a little on the po-faced and dry side. The game has grown somewhat since then, adding a dedicated dungeon-crawl playmode, improved co-op and a lot of fine-tuning and rebalancing.
We'll hopefully have a review of the final cut ready in time for its launch next Thursday, and anyone enticed by the game in its current state is still best off waiting until the official launch day. The current Early Access version of the game is wearing it's full price-tag already, but the developers have announced their plans for a launch-week discount starting on the 19th.
For The King is available via Steam Early Access for £15.49/$20, and will be launching next Thursday.