Fortnite's first major esports season starts this weekend
Big money! Big prizes! I love it!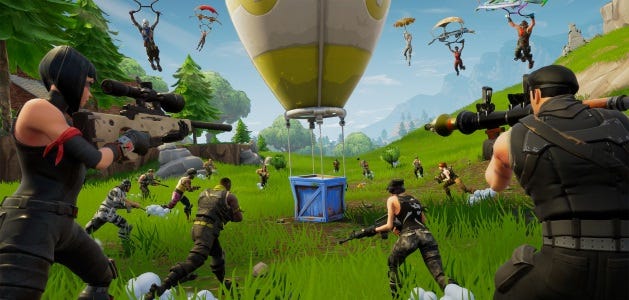 Fortnite may have taken over the world and forced the BBC to dedicate a comical number of hours to silly dances and pondering if they're corrupting our youth, but until now it hadn't entirely dominated esports. That's liable to change soon, as Epic are putting $8,000,000 in the pot for their upcoming Summer Skirmish series of competitive events; eight weeks of big money matches, with the first set to run this weekend.
Eight million USD is a lot, but it's just a tiny fraction of the 100 million that Epic have set aside for Fortnite esports this next year. I'd be surprised if Overwatch was the only game being televised soon. Fortnite is definitely more comprehensible for casual viewers - everyone understands shooting at each other over pillow forts, and Fortnite is just a cutting-edge evolution of that.
Worlds collide… tomorrow. pic.twitter.com/xsaa9Yr4h5

— Fortnite (@FortniteGame) July 11, 2018
This next week is set to be big for Fortnite in general, with its fifth season of content updates due to start tomorrow. The weekend matches - a Duos competition with a $250,000 pot, presumably played on and around whatever map changes are happening - are intended to jumpstart the season (according to Epic), with initial invitations already sent out. Epic promise more info soon on how mere mortals can qualify for future events, but remain tight-lipped otherwise, which is very much their style as of late.
After the dramatic in-game teaser for season five (now titled Worlds Collide, hopefully to be trailered featuring the Powerman 5000 song), Epic seamlessly transitioned into building hype through a real-world ARG, or at least some clever art installations. It's fascinating how Fortnite Battle Royale's very nature as a last-minute refit of a struggling game has changed an old studio's nature. It feels like Epic are dancing around the rest of the industry with dizzying speed and very few of their ideas have fallen flat.
At this point, I can't even imagine where Fortnite will be in another year. It felt like it came out of nowhere just one year ago, springboarding off Playerunknown's Battlegrounds's success. Now it's an international phenomenon, and launching into the best-funded esports season in history, dwarfing the nearly $25 million that Valve have assigned to Dota 2's The International. We're officially in strange and uncharted territory.
Still trying to get to grips with Fortnite? Check out our Fortnite guide hub for more tips and tricks for the game. You can also find the latest challenges in our Fortnite week 6 challenges guide.