FREE 3: No-cost games to play instead of E3's blockbusters
An antidote to hype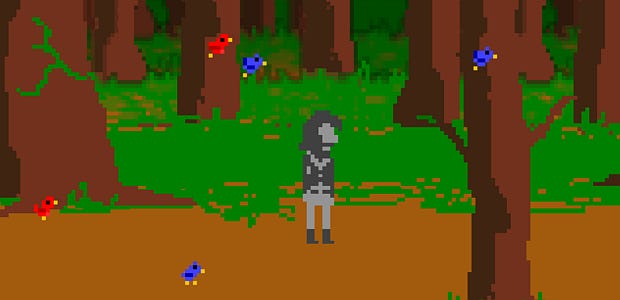 E3 is upon us once again, and it's great. But do you want to know what's even better? Free games! For the past two years, we've run a series showcasing some of the best games that you can enjoy right now for no cost instead of hyping up an upcoming blockbuster release. This year we have three more trios for you to check out, so let's get started with the first set.
Instead of Call of Duty: Black Ops 4, play...
An Occurrence at Owl Creek Bridge by James Earl Cox III
A different kind of war story. This game adapts the book of the same name originally written by Ambrose Bierce, putting you in the shoes of an American Civil War soldier. But you aren't given any context about who he is or how he got into the rather unpleasant situation that he finds himself in. Even the twist ending does little to fill in the gaps. Instead, it lays out a tale of desperate escape, chaos and tension, and a single moment of blissful calm, and leaves the rest up to your interpretation.
Instead of The Division 2, play...
Like Roots in the Soil by Space Backyard
There is a lot of apocalypse on display at this year's show. This game's interpretation is a little softer than most, following two men from different times on their journey through the same place. As they walk, you can turn the diorama to peer into the past or the present at will, watching both stories unfold at once. Hidden within the sepia and pastel contrast is a heart-warming story of perseverance that's well worth exploring.
Instead of Shadow of the Tomb Raider, play...
The Last Days of Our Castle by Mark Wonnacott
An atmospheric contemplation of a place abandoned, about to become a ruin. Made in Bitsy, this game manages to tell a deeply melancholic story with simple sprites and just three colours. Speak to some very philosophical cats, explore the quiet towers, and wait for the waters to come and claim the once proud building. Later, you can move onto the sequels to get stuck into some pixelated archaeology, but soak in the mood of this one for a while first.
Three Free For E3 will return tomorrow with three more suggestions of free games that you can play right now. Hit up the tag page for the rest of our E3 2018 coverage.