Freeware Gardener's Question Time: 21/08
Chat about this week's free game picks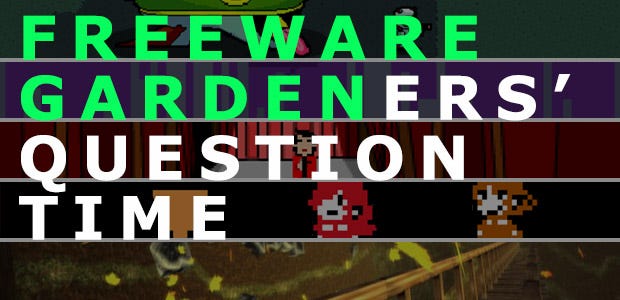 In a comment on one of the recent Freeware Garden posts, a reader lamented that its early morning posting slot - 11am, BST - meant that by the time they'd been able to play any given game, the post had been flushed down the RPS front page and any conversation in its comments had come to an end. Why not, then, set up a weekly slot on Friday evenings where people could convene, pick through the week's selections, and have a proper chat about their thoughts?
Then I thought of the title and so it had to happen. Welcome.
Looking for more free games? Check out our round up of the best free PC games that you can download and play right now.
This week saw the selection of five fine freeware games, as always.
Monday - Space Goblin In A Land Of Jello
A Zelda-esque arcade adventure about saving the world in ten minutes.
Tuesday - Americano
A Twine game about a robot's love for a human in a hipster dsytopia.
Wednesday - Comedy Quest
A traditional, Sierra-style point-and-click adventure about a stand-up comedian.
Thursday - Glitch Dungeon
A 2D puzzle platformer with 'glitches' a deliberate part of its design aesthetic.
Friday - Remnants Of A Beautiful Day
A first-person narrative walkalong, which is more traditionally game-like than you'd first expect.
If you've played the games and have some thoughts, talk away in the comments below. If you haven't played anything yet, this post should linger somewhere near the top of the site for the rest of the weekend, so take your time.
o/