Get EVGA's Z20 full-size UK mechanical keyboard for just £40
That's 69% off - nice - and an absolute bargain for what you get.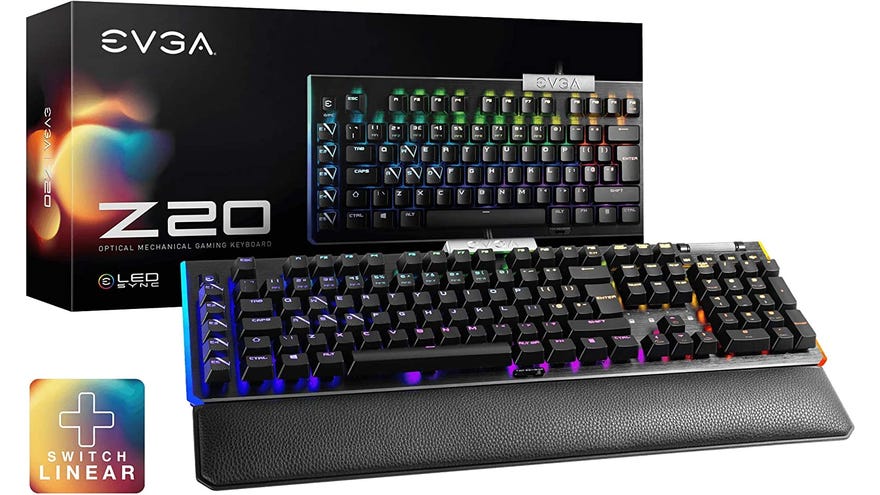 The EVGA Z20 optical mechanical keyboard is a super-solid option with a boatload of features - and it's currently 69% off at Amazon UK, bringing it down to a measly £39.98. This is an awesome price for a keyboard of this size and quality, and well worth picking up even if you've already got a mechanical keyboard - or if you've never tried one before.
The EVGA Z20 ticks a ton of boxes when it comes to mechanical keyboards, offering a full-size UK layout with optional RGB backlighting, a plush leatherette wrist rest, macro keys, a volume wheel and a sleek metal design. Inside, you'll find light and linear red optical switches operating at a 4000Hz polling rate, offering exceptionally rapid key presses that are ideal for gaming - while still offering good tactile response and travel distance compared to your standard rubber dome alternative, making them fun to type on too.
That's not just my opinion either. Canadian outlet RTings reviewed the Z20 and called it "an outstanding mechanical gaming keyboard", praising its build quality, ergonomics, wrist rest, polling rate and long feature list. In the negatives column, they mentioned the keyboard's prominent branding - which is relegated to a single EVGA logo at the top of the keyboard, which to me doesn't seem that bad - especially at this heavily reduced price point!
There are some really neat features included in the keyboard too. A time-of-flight sensor can turn off the keyboard when your hands aren't near it and enable it before your fingers reach the keys again or even automatically lock and unlock your PC; the dedicated macro keys and software allow for automation of common work or gaming tasks; USB and 3.5mm pass-through allow peripherals like your mouse and headset to be connected without running extra cables to your computer; the volume wheel and media keys allow you to skip songs without needing to alt-tab; a keycap puller and extra keycaps are included. It's a super impressive offering.
It's worth noting that this keyboard should be ripe for modification too, with a completely standard layout that could be customised with better-feeling PBT keycaps - I'd be tempted to pick up something like this to turn it into a completely-different looking board if you don't like the black and silver aesthetic it's got going on.
Overall, this is an outstanding keyboard for £40 and I'm quite tempted to pick up one myself - even though I have way too many mechanical keyboards already, this is just too good of a deal to pass up!