The Gifs That Keep On Giffing
GIF all day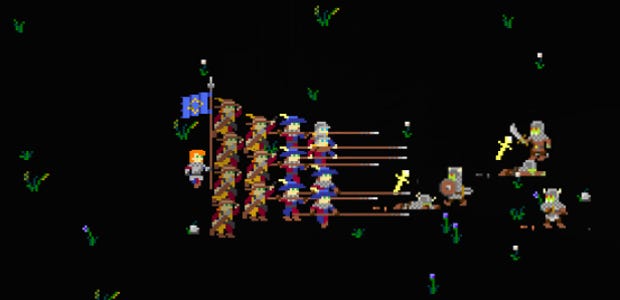 Every now and again I go to browse the 'Gifs of games being worked on' thread in the TIGSource forums (The Independent Gaming Source community forum). I probably shouldn't admit this but I'm not really there to scout out games. Sure, something cool might stand out and I'll investigate further but the real pleasure is the pretty or interesting or characterful gifs. Perhaps I'll find something broken but gorgeous or finished but puzzling. It's about finding game actions which work as a repeating loop. I thought I'd gather some of my recent favourites here and share them with RPS readers. Please take this as an invitation to share back or pick your own favourites from what's below.
I'll try to include information where I can and a link back to the source in case you want to follow up the discussion or feedback.
---
Pol
(You might know Pol from Even The Stars, a game of typing co-ordinates and exploring space)
---
Muki
(With this one I just really like the mood and the colour palette)
---
Zack Bell
(This gif shows the fruits of a game jam)
---
owendeery
(This was 7DFPS game Colt55 with a "bunch of horses" - I love that these are horses and that they kick up dust as they run)
---
James Edward Smith
("Fillin' up my coffers with phat loot in Pike'n Shot (game does not run at gif wacky speed)")
---
Gambrinous
(I think this is level construction in Guild of Dungeoneering)
---
26PM
("It was a crisp grey night and the raindrops left their fading rings")
---
tuaarita
(There's a stripped-back quality here that makes me think of a non-terrifying Teleglitch)
---
Aldo
(This is from Letters From Earth which centres around facilitating a relationship between two supercomputers. "With this game I am also currently pioneering the use of a main character wearing different hats...")
---
Mr Underhill
(This is from a game called Gibbous and shows a rough idle animation for the Kitteh character)
---
eigenbom
(These are the jumping spiders of Moonman)
---
marcgfx
("Spider-robot that was originally about 10 times the size and designed for a rts (that i never completed). It's now running around in a racing-game, maybe it could be used as a beginner vehicle (as its so slow).")
This article was originally published last month as part of, and thanks to, The RPS Supporter Program.