Still Peepin': Free Expansion For Gods Will Be Watching
Set 20 years after the original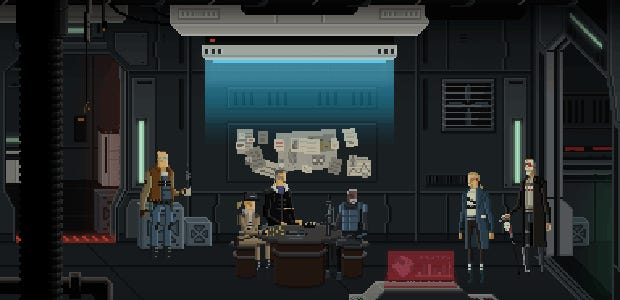 The third thing I do every morning, after groaning and rolling off the crumpled Stella can digging into my back, is whip out the akimbo middle fingers and scowl at the sky. I'm watching you, gods.
I did not get on with what I played of narrative resource-managing moralathon Gods Will Be Watching [official site], and John was disappointed too, but the idea of big decisions and branching narrative in terrible situations was interesting. Developers Deconstructeam already gave it a going-over with new difficulty modes last year, and yesterday they released a free epilogue expansion. I wonder if their idea of it has changed much over these past eight months.
"There were never plans to create a full-fledged sequel to Gods Will Be Watching, that story has been told," studio lead Jordi de Paco said in a launch announcement. "But we wanted to further explore the plight of Sgt. Burden's team in such a dark time and give the fans of Gods Will Be Watching a glimpse into the future of the characters they had come to know so well."
Set 20 years after the main game, the expansion sees the old gang reunited "on a desperate quest to change the past and prevent the oppressive Constellar Federation from ever coming to power." Something like that is bound to include a few tricky decisions and no mistake.
The expansion is free for all. A Steam sale to celebrate the launch brings the game down to only £1.74 too.