Wake Up: It's GOG's Spring Insomnia Sale
100 games up to 90 percent off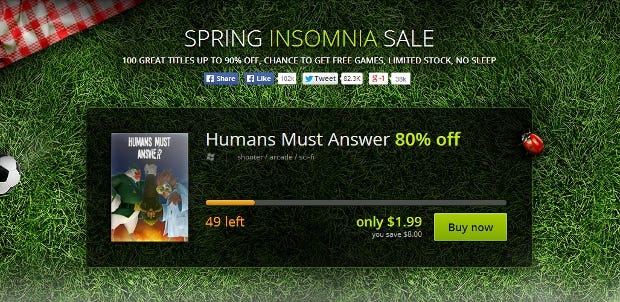 Spring is in the air. And on the ground. And oh god, it's in the vents. Harrowing, certainly, but worth getting excited over because videogame sales are rampant and also I guess new life is entering the world's bloodstream. Humble was first to let players feast on the fruits of its deal-cutting prowess, and now GOG's following suit with something... rather different. The Spring Insomnia Sale puts various games in the gleaming rainbow sale spotlight, but in maddeningly limited quantities. You know that part of a Steam Sale where you obsessively check for new deals a few times per day? That times a million.
It's a reprise of the similar Fall Insomnia Sale, but with a few tweaks to leave you even more itchy, sweat-soaked, and glued to GOG's frontpage:
"Welcome to our Spring Insomnia Sale! Back by popular demand, we will be putting up 100 games in limited quantities with discounts up to 90%. We'll have more games for sale than Noah had animals in his ark. Indies. Classics. Classic indies, even. All kinds of games for all kinds of gamers."

"We did change things up a bit this year. While checking out, keep an eye peeled for a random chance to get a free game. Yes, this time there will be no more split second freebies so everyone has an equal chance :)"
It's pretty diabolical, that's for sure. But let's face it: we're all going to be watching and waiting for the perfect deal to whisk us away and make all our farmgirl/boy dreams come true. Or, I don't know, something about videogames. It's late in the US right now and my metaphors are confused.
Deals appear one at a time, so they go pretty fast. Personally, I'm keeping a tab open so I can flip over to it every few minutes. Be warned, though: watching the numbers and meters change in real time is mesmerizing. My productivity is down 50 percent, and I've totally forgotten whether or not I own a small parcel of land in Peoria. It's bad. Real bad.
What about you? Have you been keeping track of the sale? If so, have you bought anything?