GSC: We Remain The Owner Of The STALKER Brand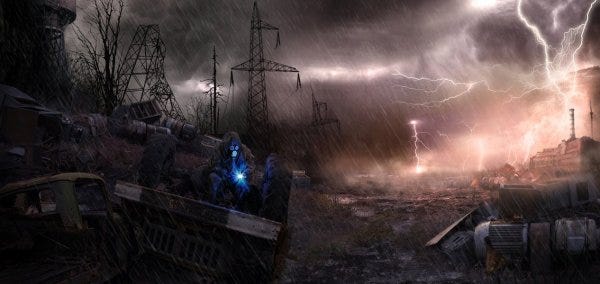 Update: GSC responded to our queries, pointing out two rather major items: 1) "BitComposer doesn't have any rights as to S.T.A.L.K.E.R., except for distributing our game Call of Pripyat on some territories," a rep clarified. "They may have purchased the rights for the game based on Roadside Picnic, but it has nothing to do with S.T.A.L.K.E.R. or its universe." 2) "GSC is seeking ways to continue the series, and we're also considering selling out the brand to a decent developer or publisher." Hear that? Somebody amazing, BUY STALKER.
Original: I always wanted to be able to tell people STALKER will never die, but I'm not sure I wanted it to be like this. First, German publisher bitComposer claimed to have obtained the rights to develop games about Chernobyl's implausibly bad luck with nuclear power via a book-series-shaped backdoor. When doubt was cast upon the validity of their claim, they confirmed to Jim that the rights are theirs, but hesitated to comment any further as to what that could mean for the series or the sadly defunct STALKER 2. Now, though, the thought-to-be-corpsified remains of original STALKER dev GSC Game World have caught wind of the controversy, and they're returning fire with fighting words.
In a statement to RPS via email, GSC laid its claim to the STALKER game series as we know it and cast doubt on bitComposer's ability to deliver, well, anything.
"In view of the rumors appearing in press, we find it necessary to inform that GSC Game World and Sergey Grigorovich remain to be the sole owners of all the intellectual property rights to the S.T.A.L.K.E.R. game series and the brand overall, including all the trademarks, the game universe, the technology etc. This can be easily verified with the trademark services online."

"From time to time news on the S.T.A.L.K.E.R. brand purchase by this or that company appear over the Internet. We relate such a keen interest in the brand to its exceptional popularity. Even the purchase of rights to create a Roadside Picnic book-based game by a small publisher is presented as the continuation of S.T.A.L.K.E.R. franchise. We have doubts regarding the mentioned product by bitComposer (the publisher of S.T.A.L.K.E.R.: Call of Pripyat on some territories), since the latter has significant debts in terms of fulfilling the obligations under the existing contract between our companies."
Earlier this year, rumors also surfaced that Bethesda had acquired the rights to develop new STALKER games. They hadn't, of course, but wouldn't that have been neat? The majority of STALKER's old team, meanwhile, is now strapping into their hazard suits and heading into multiplayer territory over at Vostok Games.
I've contacted GSC to clarify exactly how far its claim to STALKER reaches and whether or not it has immediate concrete plans to continue the series. As soon as I know anything else, you will too. BECAUSE HIVEMIND.