Gun(two)point(zero): Gunpoint Gets New Engine, Mods
No more technical troubles probably!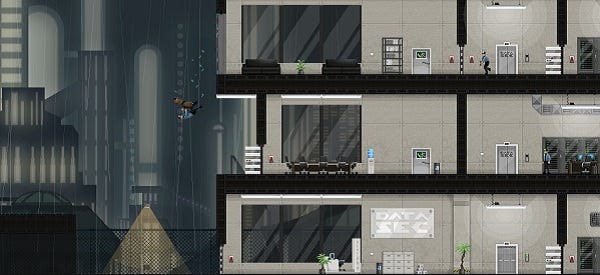 In a lot of ways, I feel like Gunpoint is what Watch_Dogs should've been. A game not about violence, but about getting around it using a bag of tricky tech tools, being fluid and improvisational like some kind of cyberpunk Bruce Lee. Your character is just a flimsy, doughy detective who goes flying out windows all the time. You have to be smart, not brutal. (Also the writing is actually good, so there.) If you still haven't played it, there's no better time than the present, seeing as it just got a spiffy new game engine and Steam Workshop support. See the full list of changes below.
You want new things? Well take them. Take them and deal with it. Have a wonderful time.
New engine, implemented by Abstraction Games. Should fix many technical issues and make the game run faster for everyone, and it'll enable us to develop Mac and Linux versions next.
Steam Workshop added, for browsing and sharing user-made levels. Yes, we listened to the 1,779 post petition you guys started even after we'd already announced we would do it.
Option to turn off swearing. Up to you whether this makes "Grow a ####ing #### and shove it up your ###" kid-safe.
Reconfigurable keyboard controls.
Vertical sync option. I didn't know we needed this, but the folks at Abstraction added it and now the animation is at least 23% more beautiful.
Level editor. The level editor has been in there since launch, but some people still ask for one so I'm just going to keep announcing I've added it until everyone knows it's there.
You can now place multiple elevators in a level without it crashing. That's more than I could do when I was making the game, so I expect your levels to be at least twice as good as mine.
If you have any technical troubles with the new version, you can still use the old one by going to Properties > Betas and selecting 'oldversion'. Post your issue on the forums too, so we can fix it.
So that's nice, and it lays the groundwork for some fairly exciting stuff (or at least ports) in the future. The game is discounted to $2.50 or £1.50 right now, so have at it.
If you want more Tom-Francis-flavored goodness, the Gunpoint mastermind also just released Floating Point on Steam for free. It's about grappling hooks, and it's very relaxing. A soothing grappling hook dreamscape. Paradise, except you go "wheeeeeeeeeeeee" a lot.