We're talking with the Gunpoint & Heat Sig dev at Rezzed
Tom Francis, sometimes of RPS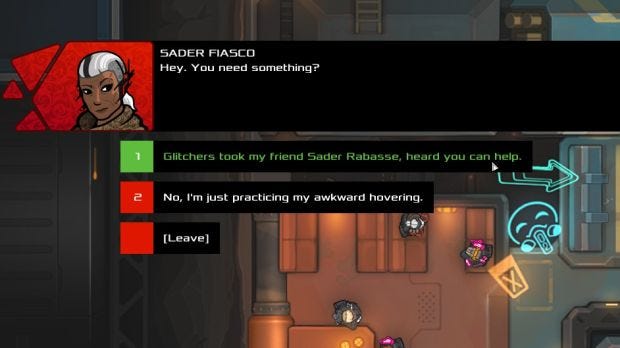 You might know Tom Francis as the designer of noir rewire-'em-up Gunpoint and the stealthy spaceship invasion of Heat Signature. You might know him as the writer of the What Works And Why column around these parts. At this year's EGX Rezzed you can know him by hearing him talk on stage with Adam about the challenges of building a procedural galaxy, his design philosophy, and the plans for his next game.
Heat Signature is about piloting across a procedural galaxy to sneakily breach into a procedural spaceship, get into sticky situations with the guards inside, and then use gadgetry to get yourself out again. Here's what Brendan had to say about it in his Heat Signature review:
If you like toying with contraptions, though, Heat Signature is a great box of treats. The feeling of pulling off a heist in a whirlwind of gunfire, sword slashes, grenades and body-swaps, is a sensation usually reserved for blockbusters like Dishonored and Prey. But Suspicious Developments have distilled that chaotic kinaesthesia into something much smaller, smarter and spacier, which is absolutely to be praised. Even if I found myself feeling like an aggravated villain as often as I felt like the fleet-footed hero. Even if I'm still sour about the man who killed my mum.
Aside from talking about Heat Signature, Adam will be trying to wring new details about Suspicious Developments' next project from Tom. That project is Tactical Breach Wizards, "a present-day turn-based strategy game about coordinating a small team to breach into rooms full of gangsters and other hostiles, but your team are all wizards. In tactical gear." What else would you need to know.
You can hear all this at 12pm on Sunday April 15th during EGX Rezzed at the Tobacco Dock. There are more details on all the developer sessions on the Rezzed site, including other conversations between RPS and Matthew Davis, one of the creators of FTL and Into The Breach, and the developers of American Truck Simulator.
Lastly, you can also see Tom on the Rezzed sessions stage at 3:30pm on Saturday 14th for a live episode of the Crate & Crowbar podcast, along with Chris Thursten, our own Graham, and some special guest game developers.
Disclosure: Graham and Tom Francis are good buds, which is why Graham is forbidden from being anywhere near this talk when it happens.