H1Z1 updates Auto Royale with rocket launchers and more
Cars with rocket launchers are cool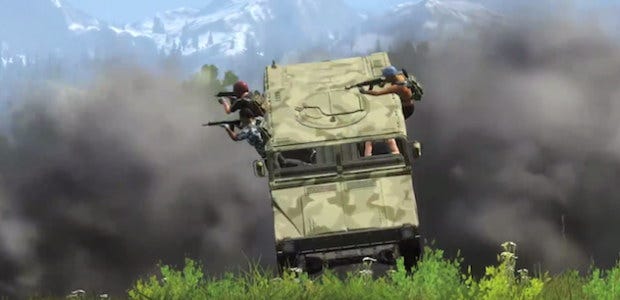 H1Z1 continues to grow into its own as a bizarre group gaming experiment. The title, which split into two different games in 2016, has continue to split into even more sub-games this year. The current Battle Royale game mode has bolstered by Auto Royale, which allows single, duo, or quad teams to go Full Mario Kart on each other in a quickly diminishing map. And now there is a guided Rocket Launcher.
Along with various map optimizations, the update to H1Z1: Auto Royale includes a new game mode. Duos allows for vehicular mayhem as a team, and the mode allows for up to 60 teams per map.
The full read-out of new updates for the game are as follows:
New Weapon: The Rocket Launcher deals high explosive damage and causes similar vehicle disruption as land mines. Rockets can be guided while in flight by aiming down sight and moving the reticle after firing.

Duos Mode: Along with the traditional Fours mode, players can now choose to hop in with a buddy, decide on a driver, and immediately get into the action.

Map Optimization: Numerous collision objects and navigation chokeholds have been removed from the game.

Weapons Tuning: Landmines, Sniper Rifle, and Crossbow e-tips have all been balanced to improve flow and playability.
Additional bug fixes and re-balancing have been added to the game as a whole.
Honestly, I hadn't looked into the Auto Royale mode today and I adore that they've gone with a Professor Genki / Mario Kart style arcade system here. That looks fun as hell and way more quirky than the drabness I associate with most royale games, or I should say, what I was used to H1Z1 looking like.
For a complete list of patch notes for the Auto Royale update, check 'em out here. If you're into Auto Royale... uh let me know? I wanna give this a spin.