Free-for-all: H1Z1 going free-to-play today
Could this resurrect it?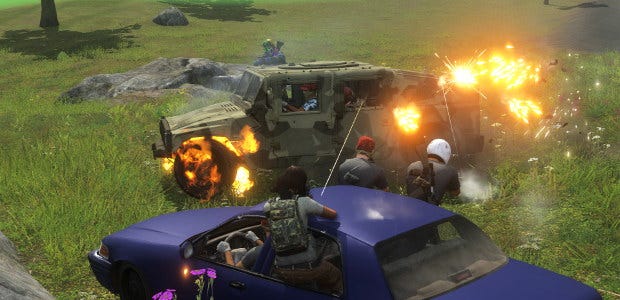 H1Z1, the battle royale 'em up that Brendan "Playerunknown" Greene worked on before making his own Battlegrounds, is now going free-to-play. Developers Daybreak Game Company have announced that H1Z1 will switch to free-to-play at 10am PST (6pm UK time) today, which is a surprise coming only eight days after the game left early access. It seems a sensible move, given dwindling playercounts in the face of stiff competition from Plunkbat and especially Epic's free-to-play Fortnite Battle Royale. Hell, I will now download it to at least have a go at that new Auto Royale mode which locks four players into a car as a squad battling with other fightcars.
"Not only does this decision allow us to share our version of Battle Royale and Auto Royale with even more players, but it signifies the next step in making H1Z1 a must-watch esport," H1Z1 general manager Anthony Castoro said in today's announcement.
Daybreak are launching their H1Z1 Pro League on April 21st, see. 15 teams are lined up to duke it out, with two matches broadcast live each week from the Twin Galaxies Esports Arena in Las Vegas across two 10-week splits.
I am not surprised to see H1Z1 go F2P, as it has lost a staggering amount of players over the past year. Public Steam numbers show H1Z1's highest concurrent player count was around 150,000 in July 2017, making it one of the most populous games on Steam, but it has dropped massively. Over the last 30 days, it peaked at 15,000 players. Going free-to-play could help turn it around, though the game's not without problems or competition.
People who have bought H1Z1 before the switch will receive an "H1Z1 Appreciation Pack" containing some clothes, a vehicle skin, 10 Victory Crates, and 10,000 Skulls (which are of course a currency, because video games).
This free-to-play switch doesn't include H1Z1's zombie sandbox survival side, to be clear, which was spun off into a separate game (despite being the original mode) a while back and is now known simply as Just Survive.
H1Z1 is on Steam.