Have You Played... Desktop Dungeons?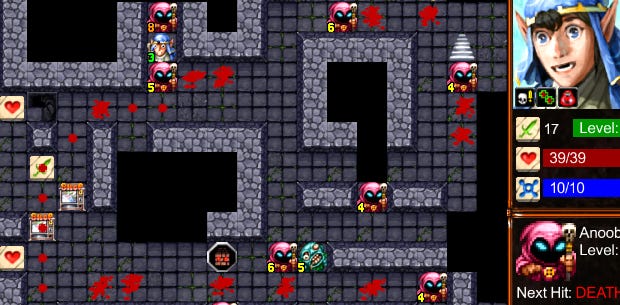 Have You Played? is an endless stream of game recommendations. One a day, every day of the year, perhaps for all time.
I'm sure it's not quite what the devs want to hear, but a big part of me wants to recommend the original freeware version over the prettier and more featureful paid version. The clarity of Desktop Dungeons' idea - roguelikelike dungeon as puzzle, to be completed in a particular order - shines through that much more without the broader RPG trappings of the paid version. Both are excellent, though, and you'd be justified in wanting to move on to the fancier version once you've played the original to death.

It's such a simple thing at first glance, but there's extreme precision underneath the surface. Health and mana are not simply meters to be emptied and filled, but resources from which every expenditure is a very big deal. Levelling up is not just so you can get stronger, but because it also restores your health and that opens the door to fighting something that otherwise would have killed you.
What I admire most about Desktop Dungeons is that no death is ever unexpected. The game will tell you that you are going to die, and you will only choose that death if there are no other options. Sometimes, though, there are ingenious options to escape said death. Boy, does figuring out one of those feel good.
Basically - Desktop Dungeons is very, very clever.