Have You Played... STALKER: Shadow of Chernobyl?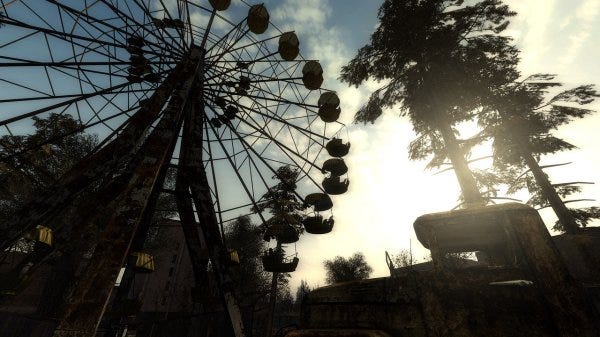 Have You Played? is an endless stream of game retrospectives. One a day, every day of the year, perhaps for all time.
Don't stand there, I said come in.

How have we not included a STALKER game in Have You Played yet? How is that even possible? Well, look, if you haven't played any of the semi-sandbox shooter series, I will grudgingly suggest that you begin with third game Call of Pripyat as it does a little bit more guiding and doesn't have anything like the technical issues.
First game Shadow of Chernobyl is the post-disaster series' highlight for me though: proudly strange, powerfully sinister and peculiarly beautiful. It is a brave, noble attempt to build a working world, one of conflict and co-operation among the mutant-haunted ghost towns surrounding Chernobyl. It is maudlin and unpredictable, throwing in dark new challenges and deeply disturbing foes regularly. It is also blighted by dodgy acting and number of bugs and flaws. I love them all.
STALKER wouldn't get made today. A version of it might, but not one this strange, this experimental, this unhelpful, this slow and methodical. Treasure STALKER. We may never see its like again.