Hawaii Five-$: Civ V Polynesia Pack Coming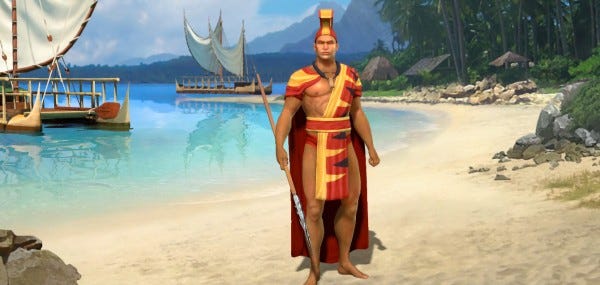 VG24/7 has word that a Polynesia Pack will be available for purchase for Civ V this Thursday, adding a new Civilization and a new scenario for the tidy sum of £2.99. Firaxis are releasing a free map pack on the same day, too. You'll find all your precious details and some ukulele music after the jump.


So, the pack first introduces the civilization of Polynesia, ruled by the great Kamehameha, the 18th century unifier of Hawaii who supposedly looked less like the above picture and more like this. Then there's the new Paradise Found scenario, where you play as "one of the four great Polynesian kingdoms" (man, there's a lot of greatness in this pack, isn't there?) as they "strive to become the dominant culture in Polynesia".
The pack will also introduce new technology and the "Ceremony", "The Arts" and "Honour" social policy trees. Good stuff. I always thought Civ V could do with a few more social policies. What was there felt a little thin. Oh, and there are also Maori Warrior units.
The new maps in the free map pack are called Skirmish, Ring and Ancient Lake.
NOW. Do you guys know about the Tanguy Ukulele Orchestra? I think it's just one guy, but he's pretty good. In honour of Kieron, here's him covering First of the Gang to Die by Morrissey, and the video that follows is him covering the Cave Story music. Enjoy!