Rebooting: Hawken Revived By APB Reloaded Devs
F2P mech shootybangs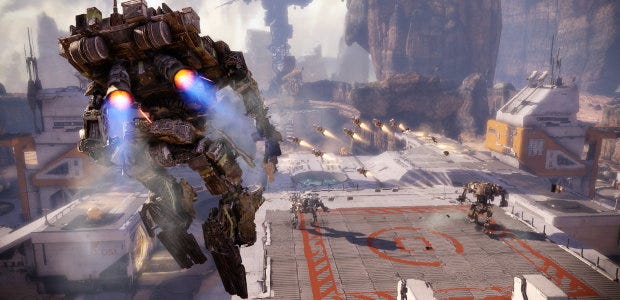 Hawken [official site] was clearly in trouble. Bugs had gone unfixed, patches ceased to flow, its forums went down, and developers Adhesive Games remained silent. Yep, it was in a pickle all right. But huzzah, things are looking up for the free-to-play multiplayer mech FPS.
Reloaded Games, the company who took over APB after creators Realtime Worlds closed, have announced they now own Hawken and are planning a new fixes and updates.
"I'm pretty excited to *now* be able to announce that Reloaded Games is the new owner of Hawken," new producer Joshua Clausen said in a Facebook post over the weekend. "It's a seriously great honor to be a part of the Hawken story, and I want to see it thrive. Once the forums are up we will post more information (they've been taking a lot longer than I was hoping)."
He also dropped a list of what they plan to work on, including fixing bugs and backend systems, and future updates and changes. Y'know, usual game-reviving stuff.
If you want to know more, it all, everything, everything ever, Clausen spoke about plans for Hawken in a livestream (archived in two parts). In short, it'll take them a few months to get rolling, they'll have a crack at tweaking balance, and they're planning to go lighter on microtransactions than APB Reloaded.