Mech The Halls: It's Time For A Very Hawken Christmas
It's beginning to look a lot like Mechsmas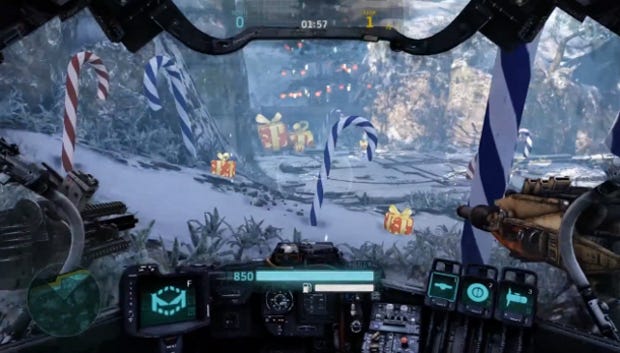 Now that I've written that headline, I actually really want a Christmas special in which giant robots grapple with issues of strained family ties, unconditional kindness despite all that, and ultimately, the merciless slaughter of the entire human race. Who wouldn't be able to identify with that? In the meantime, however, I'll just have to settle for Hawken's Operation Frostburn, which buries the grimy, gloomy mech shooter under colorful mountains of Christmas cheer. Details and video of the corresponding "Wreckage" update below.
Wreckage adds a new map and a plethora of customization options. More importantly, however, it teaches grumpy old mech pilots about the spirit of Christmas by bombarding them with imagery that'd warm the frozen heart cockles of even the most jaded of Scrooges - then dice them up, serve them alongside festive stuffing and a tall glass of Eggnog, and have itself a right ol' Christmas cockle feast.
Operation Frostburn is running from now until January 2nd, and it'll stuff your two-ton stocking with a winter version of the Last Eco map, a snowball-chucking drone called the FROS-T1000, candy-cane-coated thrusters, holiday appropriate camo (though sadly no colossal, colossally uncomfortable sweaters), and a few other holiday-recombobulated weapons.
Also, GIANT CANDY CANES. I would absolutely risk getting stomped into a million Christmas ornament shards for those. In a heartbeat.
Who's playing Hawken these days? I've been meaning to dive back in, but the gaming industry keeps making new games. I know, right? How inconsiderate. The nerve of it all.