Doggy Survival Sim Home Free Hits Kickstarter Target
Doggy Home Free, I'd have called it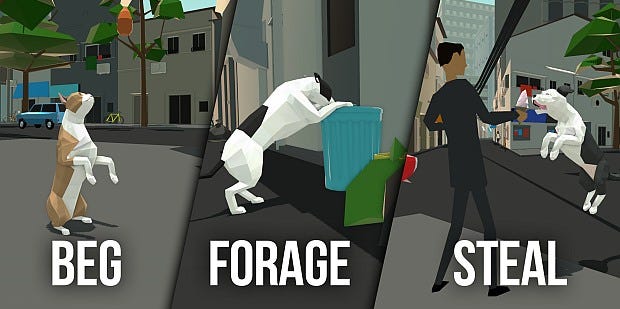 Home Free has hopped the brush fence, leaped through the tyre hoop and darted through the collapsible pipe tunnel of crowdfunding to clear its Kickstarter target. 1901 people have thus far rubbed the game's tummy, raising $50,540 at the time of writing. If this isn't fast becoming clear: it's a game about dogs. You control a dog trying to survive in a randomly generated city by stealing food from bins and humans and other dogs. It looks lovely. Watch the pitch video below.
There's no shortage of in-development survival games, but there's very few survival games set in urban environments and none that I can think of which star dogs. That's what Home Free promises; a game in which "to survive the big city, you'll need to decide how best to satisfy your doggy hunger."
The features listed on the Kickstarter page are largely focused on offering an authentically doggy experience, and the wonderful animation in the above video is a large part of the appeal for me. It's a game which can use the word "gambol" to describe your mvoement and it's not hubris. If the video is any indication, you can totally gambol, as well as "chase, wrestle, cavort." This is a much more appealing fantasy to me than similar animal survive-'em-ups like Shelter, in which your time was mostly spent trying to corral badger cubs with bad pathfinding away from passing eagles.
Home Free's dogs might be so believably hoppy and happy because they've been worked on for a long time, and were previously seen sniffing each other's butts in Dog Park, a simpler multiplayer game about four doggy friends playing together. That was playable at GameCity and other similar events over the past last year, and it's included here alongside the more ambitious Home Free. Both games were primarily made - designed, programmed, animated - by Kevin Cancienne, who is maybe best known for being involved with mobile game Drop7, but who I am most excited to learn was co-developer of the Science & Industry mod for Half-Life.
If you're interested in backing the Kickstarter, $15 is the lowest tier and will net you a digital copy of the game when it's released, with a projected delivery date of November 2016.