Devil Daggers & Prison Architect In New Humble Bundle
Bestest Best Game of 2016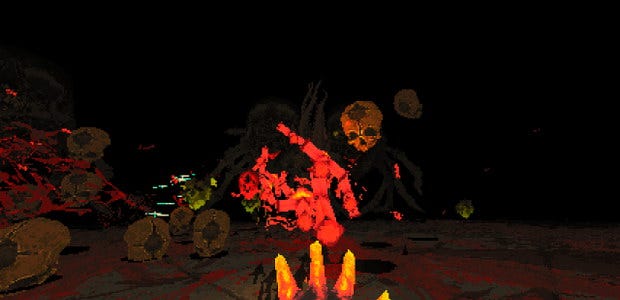 In case you've not picked up on all the hints: Devil Daggers [official site] is my favourite new game of 2016, and I'd say the best-looking game in yonks too. Devil Daggers is Geometry Wars thrown against a satanic altar in a darkened room made of Quake [see me -metaphors ed.]. I do recognise a leaderboard-climbing first-person shooter in skull-filled satanarena is a hard sell for some so here, look, it's in the latest pay-what-you-want Humble Bundle along with Prison Architect and more games. Maybe that makes it cheap enough for you to give it a try?
The Humble Jumbo Bundle 7 runs on the usual Humble Bundle model. They have a big load of games, and the more you decide to pay the more of them you get. You get to divide your money between devs, charity, and Humble as you please. Where available, games come as both Steam keys and DRM-free versions for Windows, Mac, and Linux.
Paying anything at all will get you dungeon crawler Runestone Keeper. Free-to-play card game Duelyst is giving away some freebies too.
Pay at least $1 and you'll also get theme park sim RollerCoaster Tycoon 2 with expansions, plus DEVIL DAGGERS, MAN.
Beating the current average price ($4.48 as I write) will get you those plus castle-building strategy game Stronghold Crusader 2, box-o-manager Punch Club, and prison management sim Prison Architect. Humble plan to chuck more games into this tier later too.
Lastly, pay $10 or more and you'll also get multiplayer survival game Miscreated, which is currently in early access.
The point is: Devil Daggers. And sure, some people will tell you nice things about Prison Architect and others but who has time for those when Devil Daggers exists? It got a new update yesterday and everything. Or if you want calmer opinions, check out Wot Adam Thought and what happened when we all played Devil Daggers in the RPS Summer Games.
You've got two weeks to grab the Humble Jumbo Bundle 7.