Hyper Light Drifter Preview Build Drifts Towards Backers
Drifting your way, less than hyper-ly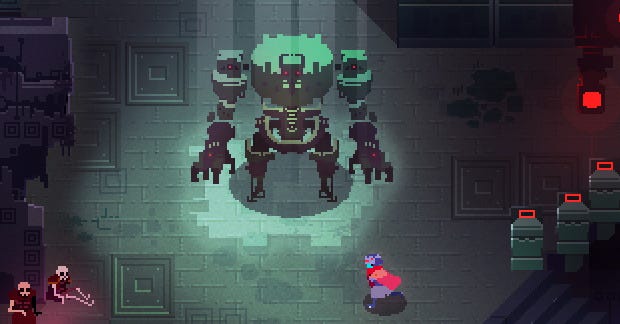 Hyper Light Drifter is beautiful: a stunning pixel art Zelda-like set in a magical, twinkling world full of colourful. You probably already know this. If you're one of the 24,150 people who backed it though - earning it $645,158 on an initial goal of just $27,000 - then what you don't yet know is how it feels to play. You might be able to correct that this weekend, as the developers have announced that the game will be available as a three-day preview build this coming weekend.
From that Kickstarter update:
Beta isn't exactly the right term; some game features are locked, some have been hidden, others are being refined, and content is always being generated for the world. So, to help communicate a bit better we're calling it a Preview Build.

The important thing is that you get an early playable slice of the game starting on the 26th of September at 12:01 am (EST)! It will run until Midnight (PST) of the 28th. Beware vicious things living in the depths.

You'll receive a Steam Key in your email (the one used for your KS account) before the 26th.
There's more information through on the post about platforms, pre-orders, the final game, and a livestream scheduled for "Friday afternoon around 5pm PST". If you can't wait that long to see the current state of the game in action, try this 12-minute video of Nathan playing from December last year. So pretty: