How ILya Muromets Your Mother Russia: WW1 Flight Sim
From makers of IL2-Sturmovik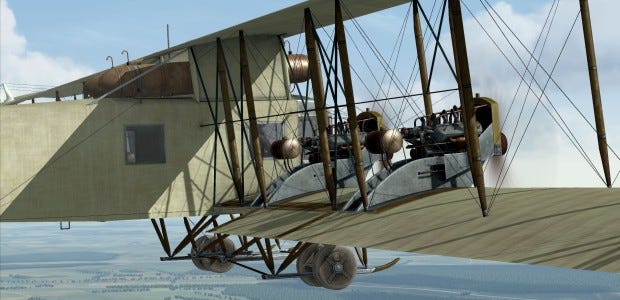 The IL-2 Sturmovik series is one of those rare sims which stretched beyond its nerdy remit to attract an audience of people who'd never normally clamber into a virtual cockpit. Now developers 1C Game Studios are teaming with the Russian Military Historical Society to produce ILya Muromets, a new flight sim set during World War 1. It's set during the Eastern Front air war and named after the first airliner, and one of the first large bombers in aerial warfare. There's the first set of screenshots below.
The ILya Muromets website is a basic holding page at this point, but there are more screenshots available through on the game's forum and a post outlining the game's goals. Mainly, that they've recreated a 22,500 square kilometer stretch of land, and the game's campaign will be feature ten missions about reconnaissance, artillery spotting and package delivery.
Ilya Muromets is due for release before the end of the year, with Early Access to launch on August 1st.
(Photo by Carmem A. Busko)