Indiescovery Episode 8: The gang plays Dredge, Terra Nil, Storyteller & Romancelvania
Sometimes you just want to see a big weird fish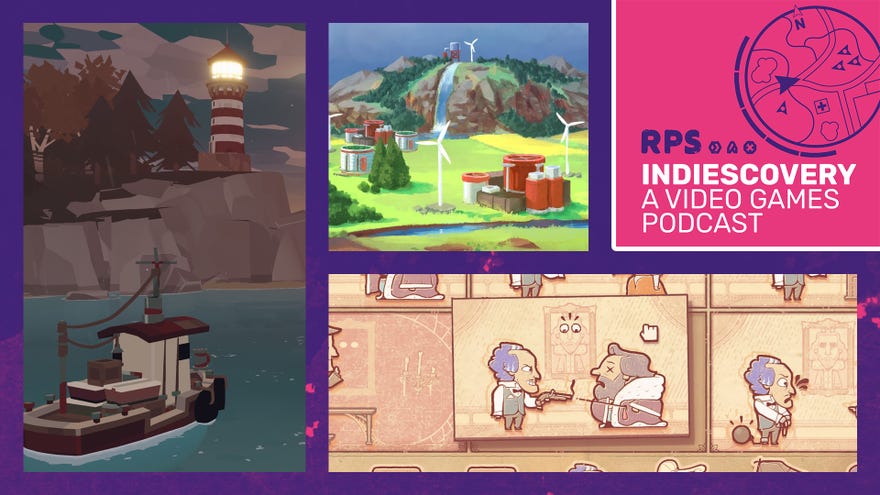 My wonderful co-hosts are both away this week, leaving the responsibility of writing the podcast post to the person least capable of doing so. I am but a humble video boy! My only job is to cut out the big "ums" from the audio mix, not writing words about the things we did a chat about! Thankfully this week Indiescovery is all about change, as we're experimenting with a brand new format. A group review! We've all been playing Dredge, the eldritch fishing adventure by Black Salt Games, and hoo boy do we have some thoughts about it. Spoilers: much like Katharine, we all think it's really really good.
Elsewhere, the review bonanza continues. Rachel's been rewriting fiction in Storyteller, I've been reclaiming the wasteland in Terra Nil and Rebecca has been dating hot monsters in Romancelvania. We also chat about burgers, olives and our current hyperfixations because hey, this is an episode of Indiescovery after all.
You can listen and subscribe via your podcast provider of choice! Find us on RSS feed, Spotify, Apple Podcasts, Google Podcasts, Pocket Casts, Amazon Music, TuneIn, Deezer, and YouTube.
Episode Notes
This week on Indiescovery it's a game review bonanza! Rachel has been playing Storyteller, and despite feeling like she already experienced everything its inventive puzzle mechanics had to offer during its Steam Next Fest demo last year, she still had a great time seeing it through. Liam had similarly thoughts about Terra Nil, feeling that its early Itch incarnation provided a slightly rougher experience that hammered home its themes surrounding environmentalism and saving the planet from the effects of climate change. You can watch the video he made during the 2020 lockdown about the game that he mentioned during the episode here. In a coincidence that proves we all have the same brain, Rebecca felt like the demo for monster kissing metroidvania Romancelvania altered her thoughts about the final version of the game, but has still been enjoying her time deciding which fictional creature is the hottest of them all.
The gang have also been playing Dredge, which they discuss at length in section two. The trio agree that this eldritch fishing adventure by Black Salt Games is one of the best things they've played all year (so far, anyway).
For our hyperfixations this week, Rebecca has finished high-school murder mystery Danganronpa 2 and has been completing a cross stitch from Etsy seller GriffinwingWorkshop to celebrate. Liam has just finished You Exist Too Much, a novel by Zaina Arafat about a young woman's struggle with love addiction. Meanwhile, Rachel has been invested in the recent dissapearance of the Lofi Girl, and the subsequent appearance of the Synthwave Boy.
Indiescovery is a podcast by Rock Paper Shotgun. Our theme music is by Dylan Sitts, specifically the songs Tahoe Trip, Pool Sticker, and Express Check-in. You can contact the podcast by chucking an email to podcast@rockpapershotgun.com, or by chatting to like-minded individuals about PC gaming over in our Discord.