Inside, From Limbo Devs, Is Coming On July 7th
It's like Limbo.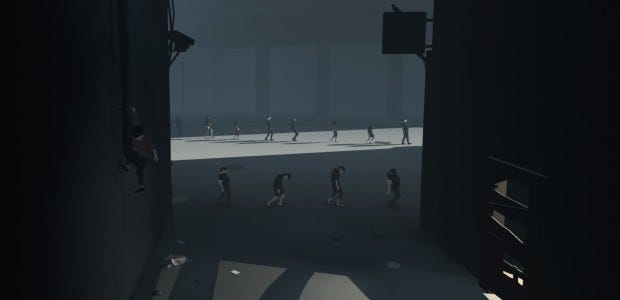 Darkly-darkly platformer Limbo split opinion around these parts when it was released back in 2010, with John loving it and Kieron thinking it was Rick Dangerous for goths. Maybe they were both right? Anyway, now PlayDead's long-awaited follow-up Inside [official site] is due to arrive imminently, and there's a new teasing teaser trailer below.
Which is rather light on detail for a game that's coming out on PC in less than a month (and on XBox One on June 29th). I suppose we could turn to the trailer from 2014's E3 trailer to see that its main character, at the time at least, was a small child much like that from Limbo. Will this game turn out to be Rick Dangerous for office workers?
Or if you crave still more detail, Eurogamer might have that answer via a seven-minute video of the game narrated by Aoife Wilson, who has played the whole thing:
So you are fragile and it is difficult, at points. No giant spiders, though. Rick Dangerous for office workers it is.
Get more of our E3 2016 news if you can stomach it.