Katamari Damacy Reroll tumbling onto PC in December
Roll on, tiny prince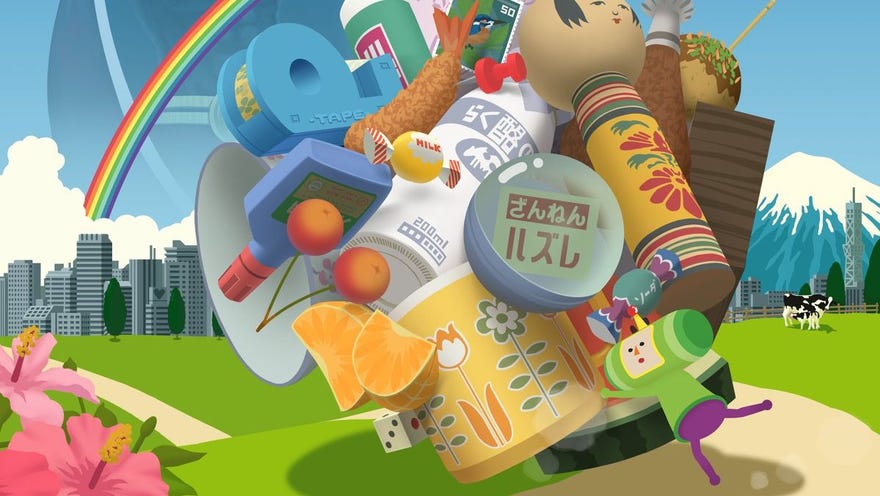 The world awoke this morning to the pitched screams of Nintendo havers, all shouting random game names. "ANIMAL CROSSING," cried fans of affordable property. "LUIGI'S MANSION," yelled lovers of passive aggressive side-eye. "FINAL FANTASY VIII," shouted Katharine in the RPS hardware department. Ah, yes. There must have been another Nintendo Direct last night, the developer's ceaseless showcase of upcoming Switch games. Nothing for us in PC land to get excited abou-- Oh my god.
KATAMARI DAMACY YOU GUYS KATAMARI DAMACY.

For those who missed the silliness of Katamari Damacy on PlayStation 2, you play as a tiny strange prince, who must roll a small but magical ball of stuff around the floor. Objects stick to the ball, and it gets bigger. Pencils, strawberries, lipstick. It's all going on the ball. Crabs? Sure. Cars? OK. Houses? At this stage, it'd be rude not to. You're doing this because the King of All Cosmos has accidentally destroyed the stars and planets, and you need to build some new ones.
Anyway, it's getting a remaster: Katamari Damacy Reroll. And sure, the Switch crowd is very happy about that, but it's also coming to PC, Bandai Namco have confirmed via a tweet.
Here's what it looks like when you roll a giant ball of adhesive junk around, indiscriminately collecting everything in the universe.
Or, as the man in the trailer calls it, Katamari Damácy.
There have been plenty of Katamari follow-ups, like Beautiful Katamari and Katamari Forever. But none of them ever appeared on PC. So roll on, December 7, which is when the remaster will release.