Killer Instinct punches onto Steam and Windows 7
Bam! Bif! Pow!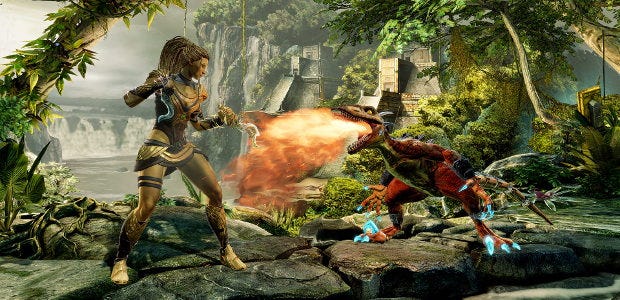 Monstrous pugilists including aliens, cyborgs, a mummy, a velociraptor, and a bona fide Battle Toad throw down in Killer Instinct [official site], a revival of the '90s fighting game series. It first hit PC last year but was exclusive to Windows 10 and its store, which is always a bit of a downer. Now folks who use Windows 7 or prefer Steam can now join in the brawl, as Killer Instinct has swapped its old shackles for a set with a longer chain.
This here new Killer Instinct drags the series into the realm of 3D graphics but sticks to the old side-on action. You know, this sort of violence:
Killer Instinct hit Windows 10 in March 2016, following its Xbox One debut in 2013. That's not to suggest this is all old and over, mind. Iron Galaxy Studios (who took over after Amazon bought original devs Double Helix Games) are still patching Killer Instinct and have added many characters over the years, the most recent coming in June.
Players with the Steam version can mostly play against people with the Windows 10 version, but the ranked mode can't play across editions. If you've played on Winton and want to switch to Steam, bad news: you'll need to buy it again, and saves and bought content do not carry over. In better news for Winton players, some skin packs are coming free to its Definitive Edition and the three most recent characters are now free for everyone.
Killer Instinct is out now on Steam, with a 25% launch week discount bringing it down to £22.49/€27.74/$29.99. While the Winton edition offers the option of a free-to-play version with one free fighter and others sold separately, on Steam it's only available as a paid complete package with all characters and skins and bits.