Knights and Bikes onstage with RPS at Rezzed!
Charge!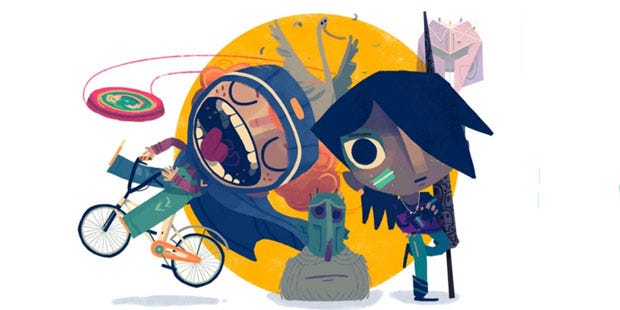 Knights and Bikes [official site] – the charming and energetic game inspired by films about childhood adventure from the eighties – is the focus of the first RPS talk to be officially announced for Rezzed 2017!
We got very excited about it when it first cropped up on Kickstarter, mainly because after reading through so many samey pitches for not-very-inspiring games this one managed to be actually cool and charming. The gifs also had a glorious childish adventurousness – all messy hair and bike riding and tongue-out-concentration-on-Important-Kid-Business.
Having played a snippet of the demo build at GDC we're now really looking forward to the game itself BUT while we wait this seems like a great opportunity to sit down with the Foam Sword team Moo Yu and Rex Crowle and find out more about their project.
Obviously we'll be talking about both knights AND bikes, but we also want to know how you tap into nostalgia without drowning in it, how you design for local co-op and how you add all the little animation and art flourishes that scream "adventurous" and "determined".
This one is at 3pm on Thursday 30 March and you can either join us in person (tickets are here) or you can watch the EGX Twitch stream. The non-RPS talks that day are with William Pugh at 1pm - that one is about navigating the games industry and also THE HORROR of it all - and there's another at 2pm about the challenges of narrative in Divinity: Original Sin 2. We should have some more talks to announce on our side of things soon too so keep an eye on the site!