Know It OWL: San Francisco Shock Special Edition
You could say their dominance came as a... Shock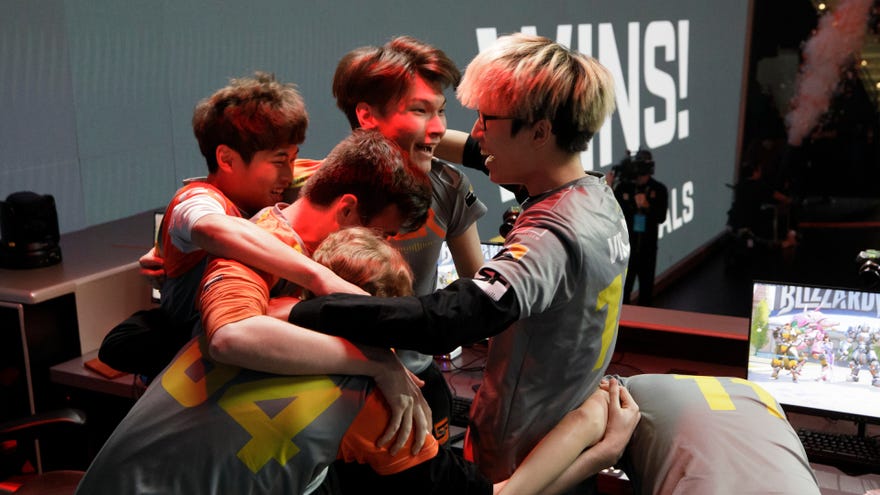 The thing about writing a column about the Overwatch League is that you have to be selective. There are 20 teams playing 16 games per week, so you necessarily have to pick out certain stories to follow and let others fall by the wayside. Unfortunately, that means that I have barely mentioned the team who just became our stage two champions, San Francisco Shock. Oops. Sorry. Lets rectify that.
There are three clear top teams in the League this year: New York Excelsior, Vancouver Titans, and Shock. The first two are easy to focus on: Excelsior was by far and away the best team last year, and the players that make up the Titans have a long history in the Korean second division as RunAway. Shock, on the other hand, were a truly middling team in the inaugural season, and worse than that, they were boring.
Admittedly, it's much more difficult for teams in the middle to stand out compared to both the top and the bottom. Still, unlike most teams, I actually put in effort to try to like the Shock. My reasons were thin: I took a trip to San Francisco a couple of years ago and I remember it very fondly, plus I think orange is a good team colour and their social media manager, Sen, is also one of the best follows on esports Twitter. And yet I couldn't stop getting their players and even games mixed up with Philadelphia Fusion, the other orange team.
But Shock were playing the long game, in a way that few other teams have been. They've had main tank player Matthew "Super" DeLisi on their bench since before he was 17 – unable to play until his next birthday. But when he was unbenched and joined together with Jay "Sinatraa" Won (commonly thought to be one of the damage dealing players who has best adapted to this meta that sees more of those shifting to play the tank Zarya) they form an apparently unstoppable frontline.
And I mean unstoppable. Shock are the only team to have ever completed what's been dubbed the "golden stage," not only going undefeated in the regular season but not losing a single map in the process. In playoffs, they dropped just three. Though they knocked Shanghai Dragons out in the round of eight, the Dragons broke their map-win streak by holding them to a 1-3 loss (I'm so proud of them), and Vancouver Titans went 2-4 in the finals.
Does this make Shock the best team in the League at the moment? It's very possible. Titans did beat them in stage one, and until losing this match the Titans were on a streak longer in total (but with less perfect scoreboards), going back several months before the season even started, if we include their second division record. But Shock looked dominant in their clash this weekend, especially on control maps.
This is especially happy news for damage dealer Kim "Rascal" Dongjun. One upon a time, before the League began, he formed a legendary damage duo with Kim "Birdring" Jihyeok, to the point where they were collectively known as Birdscal. But while Birdring graduated to become part of London Spitfire, an admittedly shaky team who still managed to win season one overall, Rascal found his transition into Overwatch League much harder. Though Spitfire originally picked him up too, they traded him away to Dallas Fuel after a couple of months.
He didn't get much playtime with the Fuel, and they let him go with a deeply disappointing statement claiming that "his commitment to the team did not meet our expectations." Who knows what transpired in the team house and backstage, but it seemed unnecessarily curt and solely negative, especially when compared to the glowing praise that fellow Fuel player Félix "xQc" Lengyel received when departing after multiple suspensions for poor conduct.
The happy ending, of course, is that after some time back in the lower division, Rascal has made his presence on the team known. He's essentially the only professional player who has mastered newest hero Baptiste, lending Shock flexibility and sometimes the element of surprise. Back in January, I wrote that he would be the underdog in a Birdscal showdown if Spitfire faced Shock, since I expected the former would be a stronger team. I'm pleased that I was wrong.
You may have noticed that when I questioned if Shock was the best team in the League, Excelsior didn't factor into the answer. That's essentially because the top of the table looks like this: Titans and Shock vie for first position, and Excelsior holds third cleanly, but doesn't seem to be able to match those two at the moment. Their semifinals match against Titans wasn't a washout, but it also wasn't the ultimate showdown that was anticipated so much in stage one – and foiled at the time by Excelsior choking to massive underdogs Seoul Dynasty in the round of eight.
Earlier in this stage, too, Excelsior fumbled, losing twice to Atlanta Reign, a deeply middling team. Though they won the rest of their games, no one really knows why Reign has their number so consistently, and what that means for the future of Excelsior.
What about the rest of the table? Below Excelsior is an absolute mess of teams who seem very evenly matched, until we reach bottom three, or the "traffic light trio" based on their kit colours: Houston Outlaws (green), Florida Mayhem (yellow), and Washington Justice (red). Of these, things are perhaps looking up most for Justice, who have made some key acquisitions including ex-Shock player Nikola "Sleepy" Andrews and won their final game of the stage against Boston Uprising.
The break that now awaits us before stage three is long, but next weekend is the All-Star show, where fan-voted players will play in weird and wacky game modes like "supports only" and "sibling rivalry." I'm looking forward to clipping this.
Until then, here's Boston Uprising's Jeffrey "Blasé" Tsang carrying out a very important part of the metagame: choosing which player icon to use. I have my own personal game of picking the most innocuous items, so I can recommend hairpin, tangerine, or possibly "ancient god rises from the sea to steal the sun."