Watch League of Legends' All Star 2014 Tournament
One of the year's two big events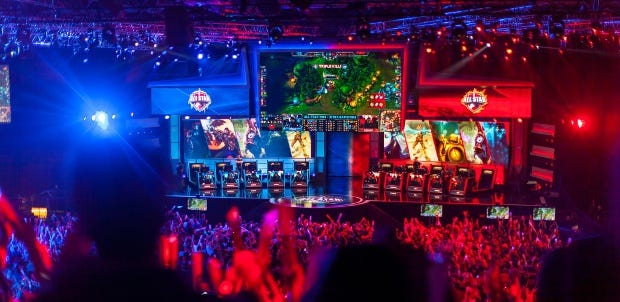 I like to think I'm still cool and relevant and I 'get' what the kids are into. I went to see Taylor Swift turn on the Christmas lights at Westfield shopping centre two years ago, you know. "So yeah, sure," I say into my disconnected phone at the bus stop, hoping nearby youths hear me, "of course I'm going to watch the All-Star 2014 this weekend. It's only one of the year's two big official League of Legends tournaments, don't you know? What a dork!" I pause, panicked. Is "dork" still a cool insult?
No matter. Started yesterday and running until Sunday, the tournament sees the top team from each of the five regional leagues brought together in Paris to virtually duke it out. It is, of course, streaming live on YouTube and Twitch.
As well as regular team battles, it also has a fun extra novelty in the All Star Challenge. This sees fan-picked teams playing unconventional modes like Hexakill, where each time has an extra player, and duels. The Hexakill is kicking off as I write this and the crowd of thousands certainly are awfully excited about things I don't yet understand. But I will after watching for a while. Because I am cool and young.
The LoL Esports site has schedules and brackets and videos of past matches and all that. If it's live as you read this, you'll be able to watch it in this little box: