League Of Mystery: Riot Gear Up For A New Champ
Meet Lamb and Wolf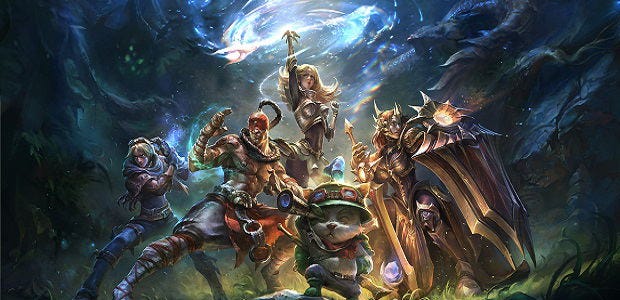 Something curious is happening at League of Legends HQ. As spotted by numerous players in the game's public beta, the team at Riot Games have smuggled in a confusing half-glimpse of the next League of Legends [official site] champ within the files of the game's Public Beta Environment.
As is noted by LoL hivemind Surrender At 20, several files have been added to the game relating to something called the Lamb and the Wolf. One file relates to a white and purple mask that appear upon death of the player. You can check out a video of some of this in action after the jump.
Riot employees have already confirmed all this stuff is indeed to gear up for a new champ, but it isn't exactly clear what form this will take. While it's been suggested this may be based on an earlier Yin/Ying styled paired character duo conceived by a LoL fan because of some visual similarities, Riot has said that ain't the case.
All very curious! Looks as though a new champ may be arriving ahead of this year's Worlds tournament, which seems a strange time to introduce an entirely new character, but what do I know. Fingers crossed for playable dog mounts!