Ballin': League Of Legends Gets Snowballs
For ARAM mode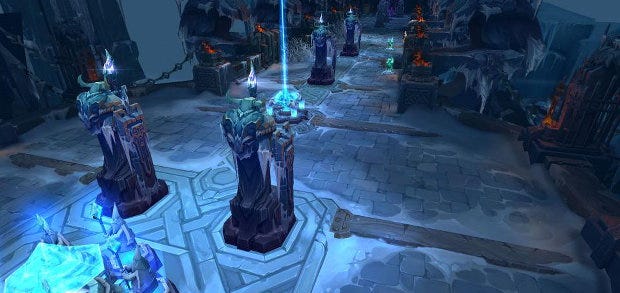 The sacred tectonics of League of Legends [official website] have shifted - ARAM mode, which for y'all four of you who don't play is a single-lane battle featuring randomly assigned characters, now includes a new snowball feature that changes the entire rhythm of the thing.
With Patch 5.8, players will be able to use a snowball in ARAM that will mark an enemy when thrown and allow you to teleport to them. League fans might recognise this whole snowball thing from a temporary game mode released last year, but it seems like Riot Games is taking it on board for the long-haul.
Surprising perhaps no one, it's already caused some worry online over balancing issues. "Mark/Dash is killing ARAM mode day by day," writes Twitter user @loykAD with furrowed brow. "It should be removed or at least its cooldown should be changed. It's too random."
Similar fears spewed passionately from the account of @YordleBoi: "I agree the mark/dash is way too strong. However, I like that the ARAM only accounts with mages/adcarries only are suffering."
It's maybe an odd addition to the mode. ARAM's have been considered a largely stripped-down version of the standard Summoner's Rift map, and the new feature seems more typical of the studio's temporary modes.
Anyone for LoL?