League Of Legends Pre-Season Rubdown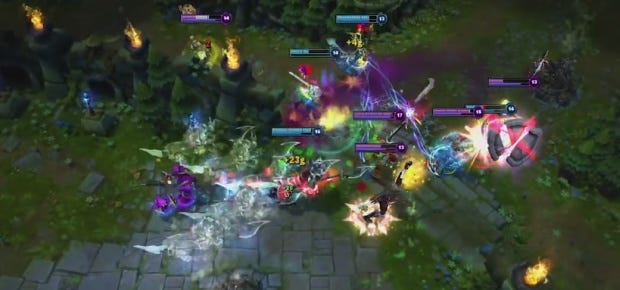 League Of Legends, eh? Yeah! Got to love all those leagues it has. And the way the men do the... that thing with the... guns? Are there guns? Oh God, look, okay, I haven't the faintest idea about League Of Legends. Yes, I co-own the world's greatest PC gaming website, and it's been my job to write about PC games for the last fifteen years, but that imperfect storm of strategy-meets-multiplayer-meets-e-sports propels it so far out of my understanding that it may as well be, I don't know, foot-to-ball. I understand that there are some rules, and the men with the complicated haircuts have to kick and not throw the ball into the other side's net, but beyond that it's like the physical manifestation of a language I don't speak. Theretoalso, League Of Legends. Fortunately, there's a handy video below to explain what's coming up this season.
Apparently we're now in the pre-season. Does this mean the teams are currently bidding on players, and playing barely attended warm-up games?
Graham previously mentioned the tweaks that were planned for the new run, but now we have Riot explaining those League Of Legends changes themselves.
I was with them up to "Welcome".
My favourite bits are the split-screen comparison moments, which are like a particularly tricky spot-the-difference puzzle. I also genuinely love that where I can barely perceive a change, there are people who will be absolutely delighted, or utterly infuriated, by what will be a significant difference.
In truth, I think it's wonderful that there are sections of PC gaming that I cannot fathom, and have absolutely no desire to go anywhere near. I love that our hobby is so broad, so all-encompassing, that it can have such extremes.