Riot Deactivating LoL Skin Codes To Fight Resellers
Six leagues under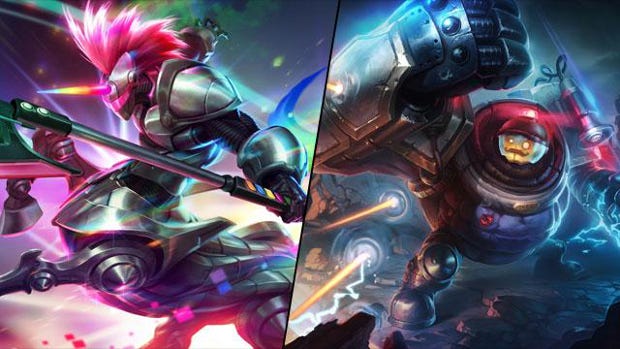 The phrase "skin codes" always gets me. I imagine League of Legends characters running around with their bones, muscles, and organs fully exposed, glistening triumphantly in the summer breeze. Skin codes, one must assume, let them clothe their frail undercarriages in flesh. Mercifully, however, that's not the case. Instead, skin codes unlock new outfits/looks for LoL characters, and are as a result hungrily coveted by players who sometimes stare at the same character for hours and hours on end. Naturally, then, some buy them with real money from resellers, especially in the case of limited edition skin codes given out at conventions and things of the like. Problem is, many resellers are scammers, and Riot's not cool with that. So come next week, it's shutting the whole operation down.
Riot explained in a post on its website:
"These sites promise limited edition skins for League of Legends, when in reality they acquire codes illegitimately and exploit players. They charge excessive prices (we found one skin for over $1,000!) and sometimes take payment and never provide the content. You can't predict the outcome, and no purchase is ever guaranteed regardless of what the seller says. To make matters worse these services typically use bots. Bots are lame to play with and chew up additional server bandwidth, negatively impacting everyone."

"Riot is taking action against these scammers at the source. We are working with multiple payment processors to inform them of the situation and recommend they no longer process fraudulent payments from these sites. Additionally we will be deactivating all previously issued skin codes starting today. If you have a skin code that you acquired legitimately please send a request to Player Support and include proof of ownership. We'd be happy to help redeem the content to your account, but please note after 23/07/14 we will no longer be redeeming codes for any reason."
Previously activated skin codes, however, are safe. Don't worry: your Arcade Hecarim isn't going anywhere.
Interesting to see Riot de-fanging such a powerful promotional tool in the name of scam slaying, though. I suppose they don't really need this anymore given that whole "67 kabullion players" thing, but still. What do you think, LoL-loving members of the 7-billion-player lifestyle that is RPS? Is this any great blow to the game or the community? Or is this change long overdue?