League Of Legends: Worlds 2016 Dates, Locations
Worlds news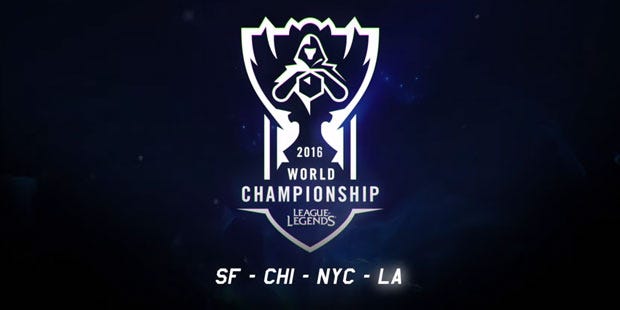 League of Legends [official site] will be tracing a gigantic fang across the United States of America with the locations for 2016's League of Legends World Championships (picture of fang can be found further down this article).
In case you don't follow professional League of Legends, Worlds is the culmination of the various professional seasons around the globe. This year it will ping-pong across the USA, ending up at the Staples Center (which also hosted the season 3 final) in LA. The full list of dates and locations is after the jump as well as some interesting info about the other big multi-region LoL event, the Mid-Season Invitational, expanding.
Group stage
Sept 29-Oct 2, Oct 6-Oct 9 - Bill Graham Civic Auditorium in San Francisco, California
Quarterfinals
October 13-16 - The Chicago Theatre in Chicago, Illinois
Semifinals
October 21-22 - Madison Square Garden in New York, NY
Finals
October 29 - Staples Center in Los Angeles, California
Also announced were the dates and location for the Mid-Season Invitational. In case you don't know what that is, it's another tentpole international event on the LoL calendar. The MSI is a big deal because it gives the winners of each region's spring split (and a wildcard team) the opportunity to play each other, letting them size each other up mid-way through the competitive season. This time it's being held in China - May 4-15 at the Shanghai Oriental Sports Center.
Here's a touch more information on the format - the big thing for me is that it's a lot longer - almost two weeks instead of four days - and with far more games so it's a better look at how the regions play against one another and offers a lot more experience to the players:
"After last year's MSI, we wanted to see more region vs. region matches, so we've decided to expand the Group Stage on May 4-8 to a double round-robin format, meaning twice as many games. After Group Stage, we move to the Best-of-5 (Bo5) Semifinals and Finals on May 13-15. At the end of the tournament, one team will walk away with the title of MSI Champion."
Ticket info and so forth will be given at a later date for both events so I will just make a couple of points about Worlds before I head to bed:
1. San Francisco to Chicago to New York to LA covers 8,057 km. If you just go straight from San Fran to LA it's just short of 600km. Also the flight only takes 90 minutes instead of a whole month. You could probably make a decent case for this being about sharing esports with the populace rather than being about expedient travel arrangements, though.
2. Here is the giant fang which I just found by mapping out the locations on Google:
3. BUT if you turn the image sideways and use basic scientific methods you can see that Riot is actually trying to warn us that America will be swallowed by a giant evil fish. It's not even Tahm Kench (because I can't draw him) so this fish isn't going to keep us safe or anything:
4. OH MY GOD THAT MEANS THERE WILL BE A NEW SONG!
5. HEEERRRRRE WE ARE DON'T TURN AWAY NOOOOOOOOOW...
6. There is a chance it is past my bedtime.
7. WEEEEEE ARE THE WARRIORS THAT BUILT THIS TOWN...