Lights, Camera, Memes: Source Filmmaker Open To All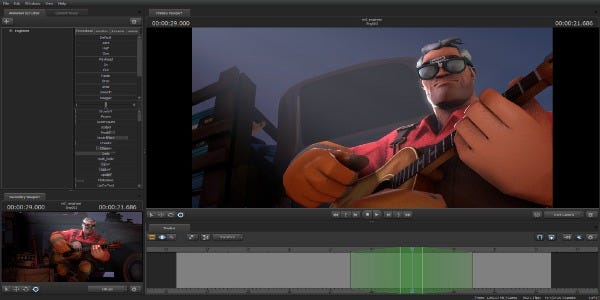 I, like many of you, have dreamed of creating the next great cinematic masterpiece since I first laid eyes on Kindergarten Cop. Unfortunately, I just never had the tools, so my gift to the world remained wrapped and hidden away. And then I got horribly distracted by Meet The Heavy meme videos created in Source Filmmaker, and that's a hole I don't see me digging myself out of any time soon. So my magnum opus has probably been shot by a regular magnum. There is a small spot of good news here, though: Source Filmmaker's now available to everyone and, more importantly, Valve's updated it with Meet The Engineer. So hooray, more memes that make me giggle uncontrollably for some reason.
For the less cinematically inclined, you still get a Source-Filmmaker-specific Steam Community page, so you can go laugh at silly videos in an organized fashion. Something to note, however: Filmmaker is still technically in beta, so there might be a hiccup or two. Also, it comes in at a hefty more-than-10GB download, and it's definitely no toy. Valve's posted a handy set of tutorials, though, so you won't be taking meticulously angled and choreographed shots in the dark.
And now, because I can, here are a bunch of silly videos so I can justify the somewhat upsetting amount of time I spent watching them.