Mafia 2: now with added movement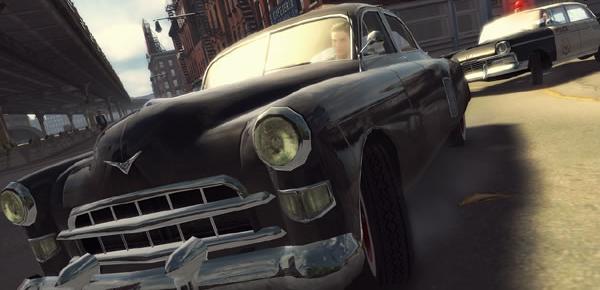 We already wrote about the annoucement of this sequel to the never-hit-it-big GTA-like. Now we offer almost as few words about the first trailer for it.
One of Team RPS loves Mafia, the other three float between 'meh' and 's'alright', depending on whether they remembered to have breakfast that day, so we're expecting some arguments about this. Given both Mafia games are stablemates of Bioshock, whose lead developer Ken Levine recently took a vicious swipe at games that use extended cut-scenes, it'll be interesting to see whether this sequel takes the 'stand here and listen for ages' approach of its precedessor or not.
Of course, it's also set in close to the same time period as Bioshock, so if 2K could get Mafia's developer Illusion Softworks and Bioshock's developer Irrational talking, perhaps there'd be some Andrew Ryan easter eggs in there. There won't, of course. But someone might say 'mook', just like Frank "What accent was I supposed to be doing again?" Fontaine does.
Anyway. Here trailer here. Initial thoughts? It's all cutscenes. Absolutely no idea how the game will play yet. It would also seem to be based much more around Sopranos/Goodfellas-esque broad humour, as opposed to the more restrained, even morose feel of its prequel. Caution: contains naughty swears.