Here Comes Trouble: Magicka 2 Adds New Elements
Oh dear!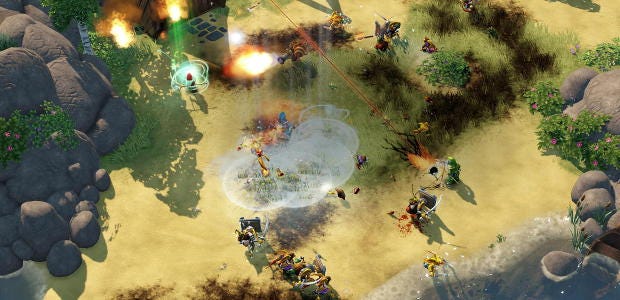 Half the fun in Magicka came from trying to do something helpful but accidentally casting a spell that was very unexpected and deeply unhelpful, thanks to its squillion combo spells. It was quite nice when spells went well too, I suppose. Whatever you're trying to accomplish - there's always one joker determined to kill everyone - in Magicka 2 [official site] you can now add a few thousand extra spells to your arsenal, as the sequel has brought the Ice and Steam elements and created a new Poison element too. Just imagine all the ways those could combine badly with all your spells.
Publishers Paradox explain in today's announcement:
"Two of the three elements added to the Magicka 2 spellcasting system make their triumphant return from the classic repertoire of the original Magicka: Ice, created by combining Cold and Water, and Steam, created by combining digital software sales with a convenient interface. These new elements now occupy just one slot each in a five-element spell, allowing players to finally recombine Steam and Lightning, or Ice and Lightning, or Lightning and Lightning (which was available before but is honestly a very nice combination). An all-new element has been added as well: Poison, created by combining Water and Death, which generates a cloud of toxic, life-sapping gas. All spell elements are now lovingly rendered in a new visual effects system also being added to the game today, also for free, also."
You know I haven't played Magicka 2 at all, as my original co-op pals are now scattered to the corner of the globe. I heard mixed things, and the original game's creators not making it did make me wary. How was it, reader pals?