Manifold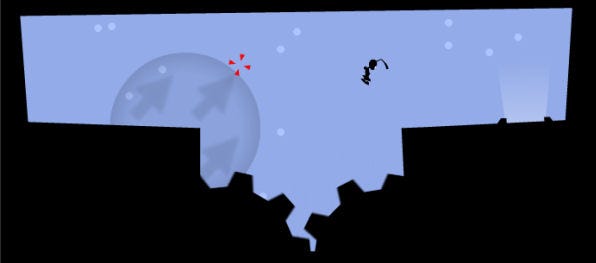 Kongregate combine the awesomeness of free games with the hellish nightmare of talking to strangers on the internet. Fortunately, you can ignore the chat windows and concentrate on the games. Or indeed ask for help if you get stuck.
I draw your attention toward Manifold - a deceptively simple-looking Flash game, involving guiding your little guy from one side of a small screen to the other. Haven't I sold it yet? Joel Esler's cunning puzzler makes it more interesting with the inclusion of a Gravitational Manifold Anomaly Device. "Don't get mad, get GMAD!" Using WASD for movement, you can click and draw on the screen to throw your GMAD at any surface, whereupon it will create a little gravity-defying bubble, propelling you in the direction in which you drew. Using this, you need to thinkum to work out a route past whatever obstacles are in your path.
It's immediately interesting, and very quickly tricky. But quick and intuitive, and created with a minimalist skill. And free. Oh yes indeed, free.